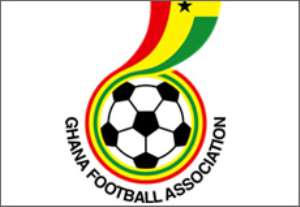 INVITATION FOR TENDERS
GHANA FOOTBALL ASSOCIATION
NATIONAL COMPETTITIVE TENDERING (NCT)
PROJECT NO. NCT GFA/GHANM/01/07
1. The Ghana Football Association of the Republic of Ghana has been allocated funds as part of its budgetary allocation to cover the cost of Development of the GHANAMAN SOCCER CENTRE OF EXCELLENCE AT PRAMPRAM IN THE GREATER ACCRA REGION and intends to apply part of the funds to cover eligible payments under the Contract for the Erection and Completion of additional structures on lots basis as stated below.
2. The Ghana Football Association now invites sealed tenders from interested Ghanaian contractors registered in Ghana category D1, K1 by the Ministry of Water Resources, Works and Housing for the construction of the following;
Lot 1 - Dormitory Block
- Changing Room
- Construction of two (2) new and improvements of two (2) existing football pitches
- Other External Works
Lot 2 - Multi-purpose Hall
3. Tender documents (and additional copies) may be purchased at the address stated below for a non-refundable fee of three million Cedis (¢3,000,000.00) only for each set. Payment will be by cash or Bankers draft. Interested Tenderers may obtain further information at the same address.
4. Tenders shall be valid for a period of One hundred and twenty (120) days after tender opening and must be accompanied by tender security of One Hundred and Fifty Million Cedis (¢150,000,000) only and shall be delivered to the address specified below on or before 7th May, 2007 at 10.00 hrs GMT, at which time they will be opened in the presence of the Tenderers who wish to attend at the conference room of Ghana Football Association at 12.30hrs local time on 7th May 2007.
5. All Tenderers must attach the following to their Tenders.
a. Certificate of Registration with Ministry of Water Resources, Works and Housing
b. Valid Tax Clearance Certificate
c. A valid Social Security Certificate
d. A valid Labour Certificate.
Address for inspection and purchasing of Tender Documents
Officer in Charge: The General Secretary
Name of Office : Ghana Football Association Head Office
Floor & Room No. : 1st Floor Room 5
Telephone Number : 021 910170/1
Facsimile Number : 021 668590 / 666697
Location for submission:
THE GENERAL SECRETARY
GHANA FOOTBALL ASSOCIATION
HEAD OFFICE
NO. 7 OSU LINK
SOUTH EAST RIDGE

POST OFFICE BOX AN 19338
ACCRA NORTH
GHANA

TEL : 021 910170/1