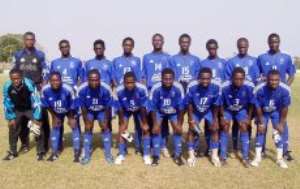 Ghana's FC Nania defeated State Bank of Travancore 1-0 in the opening match of the E.K. Nayanar Memorial Gold Cup international football tournament at the Municipal Jawahar stadium in Kannur, India on Sunday.
FC Nania, who have secured qualification for the premiership grabbed the match winner through Ebenezer Nartey, who headed in the goal in the 35th minute.
However, the scoreline did not reflect the trend of the game which the Kerala side was hopelessly outplayed in all aspects of the game.
FC Nania showed much skill, speed and stamina and appeared streets ahead of their opponents in the game which was delayed by a 10 minutes due to a power failure midway through the first half.
The delay seemed to have given some respite to the harried SBT defenders.