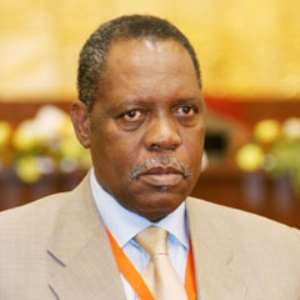 CAF president Issa Hayatou ©Photo: MTN
CAF president Issa Hayatou will not stand for next month's FIFA presidential elections as the incumbent Sepp Blatter will stand unchallenged.
No other candidate had come forward by the March 31 deadline for the election during the FIFA Congress in Zurich.
Hayatou challenged the Swiss in an acrimonious battle in 2002 but the head of CAF failed to garner the votes needed to oust Blatter.
It was thought the Cameroonian would stand but the CAF president did not file his papers to join the race.
According to a statement from football's world governing body, 66 out of world football's 207 national associations have nominated Blatter for his third term at the helm of FIFA.
"Over the past nine years, I have managed to overcome a range of difficulties and bring about several improvements thanks to their help and to the support of other members of the global football family," Blatter said.
"During my third period of office, football will acquire a more pronounced and extensive social role," he added.
The Swiss lawyer was FIFA General Secretary under the wing of Joao Havelange until he was elected president for the first time in 1998 when the Brazilian retired.