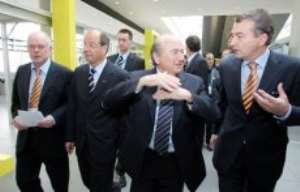 Sepp Blatter earns Ghana's endorsement for a third term as 71-year-old will be returned unopposed as FIFA's president.
No other candidate was put forward to challenge the Sepp Blatter, who was elected to office in June 1998 and who will now serve through to 2011.
FIFA confirmed that 66 member associations among them Ghana out of 207 from all six confederations had nominated Blatter, who will be sworn in on 31 May.
"I am very grateful for your support and words of encouragement, which unquestionably fill me the enthusiasm and energy to address the challenges that we set ourselves in Munich at last year's FIFA Congress and to act upon the important decisions that we took there," Blatter said in his response to Ghana's endorsement.
The FIFA president promised to continue with the adoption of an initial series of structural reforms based on the 13 steps proposed by the working groups of the Task Force "For the Good of the Game", several amendments to the FIFA Statutes such as the creation of the Ethics Committee and the ratification of the "Win in Africa with Africa" initiative.
Blatter beat UEFA president Lennart Johansson to the FIFA presidency in 1998 and four years later saw off the challenge of CAF president Issa Hayatou after a bitter election battle.