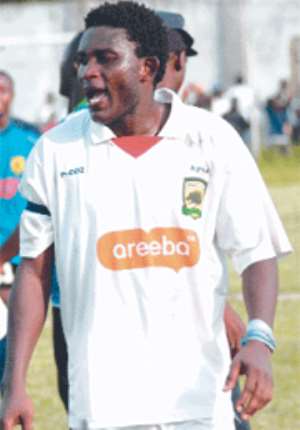 Asante Kotoko have not given up on the dream of retaining the league title. They believe their "Kum apem a, apem be ba" spirit will be key in unseating their rivals, Accra Hearts of Oak, at the summit.
The sudden revival of hope in camp seems to have been influenced by last Sunday's contrasting results at Swedru and Sunyani where Kotoko struck a decisive 1-0 away victory over Gamba All Blacks while Hearts fought from a goal down to level up at the Coronation Park respectively.
Kotoko's head Coach, Bashiru Hayford, who could only speak, with the press after hearing the result of the King Faisal-Hearts match, declared the title was within their reach and there was no turning back.
Douglas Nkrumah's 26th minute strike moved Kotoko to within Hearts' four points, but the gap between the leader and the three other contesting teams for the summit— Heart of Lions, Ashantogold and Arsenal— is nine points, just the number of points up for grabs in the remaining three matches.
The battle for the summit is fierce, but the struggle to avoid relegation is even keener. Six clubs — All Blacks (33 points), RTU (29), Faisal (29), Feyenoord (29), Bofoakwa (27) and Power (24)— all risk being kicked out of the elite division.
Of the six, two of those on 29 points and All Blacks could be saved by the skin of their teeth with just two draws, should those on their heels falter.
And if all the "ifs" and "buts" plus logic is ruled out, the battle at the bottom could be as tough as at the top.
Indeed, Berekum Arsenal, Heart of Lions, Hasaacas and All Blacks hold the key to determining who is crowned the Onetouch Premier League champion.
Hearts will host Lions and Arsenal, and travel to play All Blacks in a crucial decider, while Kotoko will trek to Berekum and welcome Hasmal as the final "home stretch" commences on April 15 and ends on the 29th.
All matches on the "journey of accountability" could go down to the wire. Talk of Arsenal versus All Blacks, RTU against Ashantigold and Liberty coming up agianst King Faisal, and you may be wrong in sticking your neck out.
But if what happened in the final day of matches in the Division One Middle League where cricket scores were recorded is anything to go by, then we might be in for some more surprises.
Review by Daniel Kenu