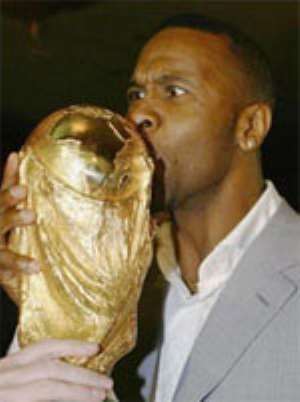 Former South African international Lucas Radebe believes that the concerns about the security situation in the country ahead of the World Cup in 2010 will help organisers ensure an incident-free tournament.
"There have been a lot of doubts about the security and about our capacity to stage the tournament, but those concerns will only help us to solve those important issues," Radebe said at the Laureus sports awards on Monday.
"In actual fact the security situation has been improved greatly and things have been tightened up a lot. I think you'll see a different South Africa when the time comes round."
The former Leeds United player, who began his career with Kaizer Chiefs, was shot in South Africa in 1991.
The motive for the attack was never established although at the time there were several cases of players being shot in reprisal for transferring to other teams.
The 37-year-old, who is hoping to take on an ambassadorial role for the 2010 event, believes the tournament will give South Africa the chance to show that its domestic problems do not mean it is not capable of staging another major sporting competition.
"We staged the Rugby World Cup in 1995 and the African Nations Cup in 1996 and the World Cup will give us a chance to show just how far we've come since then," he said.
"We can handle these type of events and it will allow us to show what South Africa is really like."