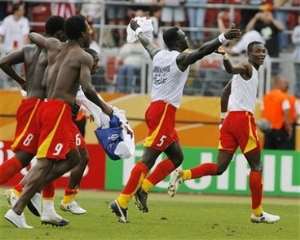 WITH LESS than a year for Ghana to host Africa's flagship soccer fiesta, the Ghana Football Association (GFA) and its ally agency, the Local Organising Committee (LOC) for the CAN 2008 tournament, face a possible wrath of the Confederation of African Football (CAF) over their inability to furnish CAF with detail security plans for the tourney.
Per FIFA/CAF regulations covering the hosting of such tournaments, all associations are obliged to take all suitable organisational and operational measures against dangers to the stadium, spectators and eliminate any dangers that may present themselves.
GYE NYAME CCONCORD investigations have revealed that since ACP Kofi Boakye, who was billed to be the Security Coordinator for CAN 2008, was asked to proceed on an indefinite leave in connection with the MV Benjamin Cocaine saga, the LOC has grappled with finding a suitable replacement.
Article 16 of FIFA's laws binds local associations to appoint a security coordinator, who must have experience of working with public authorities and the police services, as well as prior knowledge of match organisation issues, spectator supervision and any other matters relating to ensuring safety and order at an event.
Again, Clause 2 of this Article states that the security coordinator shall be responsible for evaluating and reporting back to the association (match organiser) on any extraordinary incidents before, during or after the match that in any way affect safety and security.
It continues to say that he (Security Coordinator) shall also assume responsibility for the ongoing education and training of all security officers employed and also conduct all briefings and devise a training and education programme for such tournament.
An official of the LOC, who spoke to this paper on condition of anonymity, said ACP Kofi Boaky was sent to the 2006 FIFA World Cup held in Germany to understudy the tournament's security system for implementation during CAN 2008.
However, he said with Mr Boakye's continuos stay on indefinite leave, the LOC and the GFA are battling hard to explain to CAF security details for the upcoming tournament, especially in meeting the regulations cited above.
Describing the situation as a powder keg, he said even in constructing the various stadia for the tournament, regulations that meet public law requirements should have been drafted in consultation with the local security forces with the Coordinator at the helm of affairs.
He said these specifics are necessary since they would serve as prohibitions that help to reduce the risk of spectator behaviour that may endanger safety and order at the tournament.
Contacted, the Publicity Coordinator for the LOC, Mr Rex Danquah, initially said he was not going to comment because the paper is an NDC paper.
However, after convincing him of the paper's genuine anxiety concerning the tournament, Mr Danquah gave this reporter a note on his call card to speak to Mr Stuart Ward of Micheletti and Company Limited at the Accra Sports Stadium, who would be prepared to speak on the matter.
Mr Stuart, whose company is in charge of the rehabilitation works at the Ohene Gyan Sports Stadium, also chose not to comment on the thorny issue, and only assured that the Ohene Djan Sports Stadium would be completed on time for CAN 2008.
Mr. Stuart gave this assurance when the paper called on him at the Construction Site of the rehabilitation of the stadium in readiness for the biggest African soccer party to be hosted by Ghana in 2008.
As you can see for yourself, every one is busy working and the whole rehabilitation project is steadily progressing,he told this paper.
According to him, the construction site currently has about 600 workers who are doing their best to speed up the project for the stadium to be ready soon and that when completed, the Ohene Gyan Sports Stadium would seat 40,000 spectators.
On completion, we will have 40,000 seat capacity and there will be enough seats to sit on because concrete stools and seats are being installed in addition to the plastic seats which will be fixed, he pointed out.
He disclosed that the VIP stand is expected to take about 4,000 VIPs and the popular stand would be made with a steel structure and steel seats on completion.
He indicated that four new player dressing rooms were under construction to meet the FIFA standard for international tournaments, stressing that a FIFA requirement indicates that at least there should be two player dressing rooms, but we have gone the extra mile to make it four to ease congestion.
He stated that three conference rooms for press briefings are also under construction for interviewing of players and coaches after every game to enable the media report freely on issues concerning the tournament.
He was optimistic that come October 2007, Ghanaians would witness