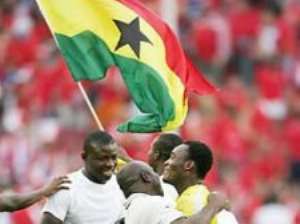 Never mind the 1-0 defeat to Brazil on Tuesday, Ghana's Black Stars are simply is getting better and better.Whether their consistency can win them a fifth Nations Cup title at home next year remains to be seen, but right now they are the team to beat in African football.
The friendly defeat in Stockholm was the first in six games under French coach Claude Le Roy.
But you don't need excuses when losing to Brazil and now his task is to keep the Black Stars as busy as possible ahead of the tournament.
Without captain Stephen Appiah or Michael Essien (missing in action against Brazil for a second time), Ghana repeated the same performance against the Brazilians which made Africa proud at last year's World Cup.
However, one thing the Ghanaians need to master to complete their current status as a mesmerising force is to score goals.
"Ghana, in truth, deserve a lot of credit for committing so many men into the attack," said English manager Roy Hodgson after the Dortmund defeat in June.
"They poured forward at every opportunity.
"But unfortunately these tactics can only be effective if you score goals and they weren't able to do that." Goals are exactly what Claude Le Roy has set out to deliver as he takes charge of his fourth national team in Africa.
And the Frenchman may be getting there: last month, he led his side to a 4-1 thrashing of arch-rivals Nigeria in London.
Since the World Cup defeat to eventual champions Italy in the group stages, Ghana's football has been impressive.
It has been colourful with exuberant technique, fine dribbling, short, precise passing and it's been stylish too - all body parts used to master the football.
It makes one wonder who the true 'Brazilians' really are.
This month, Ghana moved into the top 20 of the Fifa rankings and are now the second ranked African team behind Cameroon.
Here in Accra, the Ghanaian press is already speculating that a friendly against England is in the pipeline.
Such a game against the one-time colonialists could be a good stage for the Ghanaians to gain further world attention as a side to watch.