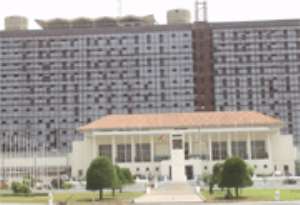 Parliament on Friday approved a $25 million loan agreement between the government and Social Security and National Insurance Trust (SSNIT) for the construction and rehabilitation of the State House Project, popularly known as the Job-600.
The building is intended to be used as offices for Parliament when completed.
The loan agreement was laid before the House on Friday and approved under certificate of urgency.
In the 2007 Budget, there was a proposal to secure funds to undertake the construction and rehabilitation of the building.
Presenting the report of the Finance Committee of Parliament, its chairman, Nii Daku Adu Mante, said the successful completion of the Job-600 project would ease the office accommodation problems facing Parliament.
In his contribution to the debate on the loan, the Member of Parliament (MP) for Sunyani East, Mr J.H. Mensah, said it was rather unfortunate that a $25-million grant given about seven years ago for the rehabilitation of the project could not be used for the intended purpose.
Some of the MPs interviewed expressed their happiness with the approval of the loan and called on the government to expedite action on the execution of the project to enable them to have offices in which they could operate efficiently.
Meanwhile, Parliament ended the First Meeting of the Third Session of the Fourth Parliament of the Fourth Republic on Friday.
The House is expected to resume on May 15, 2007 to begin the Second Meeting of the Third Session of the Fourth Parliament.
During the First Meeting, a number of bills, including the Domestic Violence Bill, the Polytechnic Bill, the National Reconstruction Levy (Repeal) Bill, among others were passed.
In his closing remarks, the Speaker of Parliament, Mr Ebenezer Begyina Sekyi Hughes, commended the MPs for working tirelessly to ensure a successful meeting.
The Majority Leader, Mr Felix Owusu-Adjapong, said the meeting was eventful, since a lot of activities were initiated by Parliament as part of Ghana's 50th anniversary celebration.
Mr Owusu-Adjapong mentioned a series of activities, including the Mock Parliamentary Sitting for the youth and the special sitting on March 5 to re-enact Ghana's independence declaration.
Mr Owusu-Adjapong commended the staff of Parliament and the Parliamentary Press Corps for working hard to support the House.