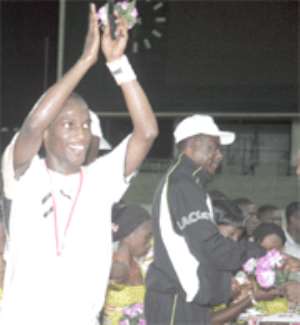 Ghana beat Tunisia 1-0 in Lome last Saturday to earn a modest bronze prize at the seventh edition of the Africa Under-17 football championship in Togo.
Sadick Adams scored with a powerful drive from close range in the 25th minute and the Black Starlets held on for the rest of the match, warding off a late effort by the North Africans to clinch the third place.
The goal placed Adams at par with Nigeria's Macauley Chrisantus on four goals apiece before the Golden Eaglets' clash with host nation, Togo, in yesterday's final.
But goalkeeper David Dadzie, starting for the first time in place of Abraham Hoenyedzi, remained the hero of the Ghanaian team on the day the Starlets missed their fair share of glorious chances.
Two successive saves after 78 minutes drove the crowd onto its feet, and a last-minute diving save when Tunisia's Khaled Ayari was almost set for celebration of his strike, crowned an evening of memorable performance by Dadzie.
Dadzie raised his open arms towards the heavens after Gambian referee John Mendy's final whistle. And the emotional scene was sealed when team masseur, Laud Sewornu, ran to embrace him. Elated teammates soon closed in to mob the goalkeeper.
With that, the Starlets mounted the podium with appreciable delight as Togo's Sports Minister, Richard Attipoe, decorated the 18 players and six officials, including Starlets Management Board members, Awuah Nyamekye and Kojo Yankah, for their achievement at the eight-nation tournament.
Ghana seemed headed safely for victory all through the second half, but the late challenge by the Tunisians threatened the effort until Dadzie's saves averted the danger.
The Starlets then returned fire in injury time but were guilty of a familiar trend as Ransford Osei and Ishmael Yartey bungled the late opportunities and left the Starlets celebrating over Adams' 25th minute strike after Osei put him through with a headed pass.