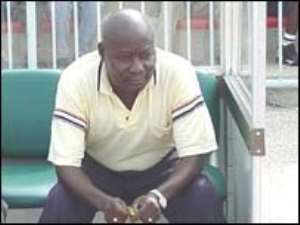 The male Olympic team would return to camp on Thursday ahead of Sunday's return against Burkina Faso in the African preliminary qualifying round for the 2008 Beijing Games.
Ghana enters the weekend's fixture with a 3-0 goal lead from the first leg after having a protest against their opponents for fielding two ineligible players upheld by competition organisers, FIFA though Burkina Faso won the game 2-0 at home.
The Black Meteors would now seek to complete the double over their opponents when they line up at the Coronation park in Sunyani.
Ghana's team continue with preparations after a short break for players to honour club commitments on Wednesday.
As team coach, Cecil Jones Attuquayefio after delivering Ghana an All-African Games ticket he remains cautions of the tie.
And with a three-goal lead, the team is not getting complacent according to the national coach.
"We are fired up for this special encounter and we won't go into it with a complacent mind," he said.
"Even though we won the first leg technically, we want to defend the flag of our country this time and prove to all, especially the Burkinabes that we can beat them.
The Black Meteors expect striker, Prince Tagoe – the only foreign-based player called up for the game - in camp on Thursday.
Though declared winners in the first leg fixture, Jones admits that Ghana's opponents are a strong side considering the performance they showed in the first game.
"They are a very good side and you underestimate them at your own peril.
"Their defence is well organised, they have a strong midfield and sharp attack," explained the Ghana coach.
FIFA has declared Ghana the first leg winners over Burkina Faso in the African preliminary qualifying round for the Beijing Games.
The sport body thus cancelled the result of that game and declared the Burkinabes losers and credited Ghana with a three goal advantage ahead of the second leg on March 25.
Burkina Faso won the game 2-0 at home but would now come into the second leg tie three goals down following FIFA's ruling.
The Burkinabes flouted competition rules with the use of two unqualified players who are clearly over-aged for the competition.
Soccer governing body, FIFA in its circular dated August 3, 2006 for participation for the men's football preliminary competition for the Beijing 2008 stated clearly that only players born after January 1, 1985 could in the preliminary round.
Three tickets would be available to next year's football tournament at the men's Olympic Games from the African continent.