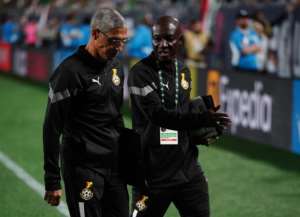 Ghana head coach, Chris Hughton, says every game is a difficult game whether it is at home or away ahead of their second group game against Comoros.
The Black Stars will be hosted by The Coelacanths later today at the Stade de Moroni.
Inaki Williams netted a 95th-minute winner in their opener of the 2026 World Cup qualifiers against Madagascar at the Baba Yara Sports Stadium last Friday.
Speaking ahead of today's match, Hughton explained that every game is difficult and this one will be approached as a one-off game.
"Every game we play is a difficult game whether we play at home in Ghana or away from home. We are on the back of a win against Madagascar.
"Comoros played very well against the Central African Republic. Our preparation has been the same as it has always been. We have to prepare exactly the same for every single game that we've played.
"Every game is different. Whatever result there have ever been in the past, we always have to look at the next game as a one-off game."
The game has been scheduled to kick off at 16:00GMT.