Spanish-born forward of Ghanaian parentage, Iñaki Williams, confirmed his switch of allegiance on 5th July 2022, declaring his readiness to represent the West African giants at the international level.
"Today, a new challenge begins. From now on, I will defend Ghana's T-shirt with all my will while giving my best. I'm one of the Black Stars," Williams said in a 60-second-long footage.
Ghanaian football enthusiasts were thrilled by the announcement, eagerly awaited by fans who had been urging the forward to switch his allegiance to Ghana.
In the following eleven games, spanning 713 minutes of action, the player based in the Basque region encountered challenges in scoring goals. However, his persistent determination to keep trying was palpable throughout this period.
His first goal would have come earlier, but somehow he did the chance against Portugal at the 2022 FIFA World Cup.
Costa, unaware that the Ghana striker was lurking behind him, rolled the ball out to take a kick, and Williams pounced, sprinting up to regain possession. At the crucial moment Williams turned to shoot, though, he slipped and gave the Portuguese defense just enough time to clear the ball and hang on for the win.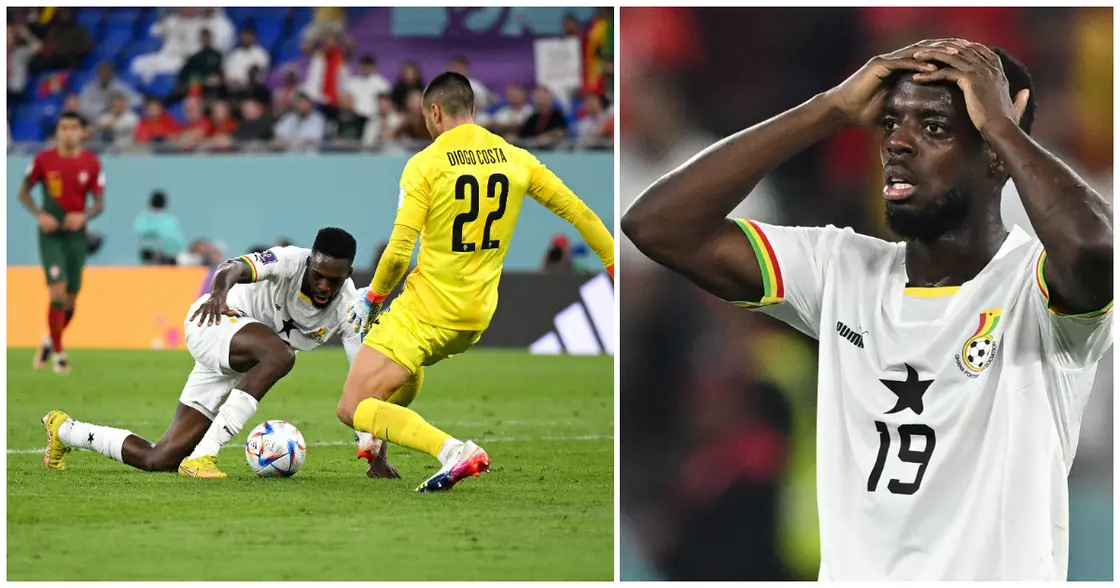 That did not deter Williams; he has been trying. But on November 17, 2023, he finally broke the duck, hitting a goal he will never forget; his first for his country, Ghana. PROVING DOUBTERS WRONG FINALLY
Many have expressed scepticism regarding Iñaki Williams since he switched nationalities, questioning his dedication to the team's pursuit of a fifth Africa Cup of Nations title.
Some believed his decision to switch was solely driven by a desire to feature in the World Cup and build his resume. Others thought it was a strategic move, considering his age and the perceived difficulty of making the cut for the Spanish national team.
Additionally, there were doubts about his commitment to helping the team score goals, as evidenced by his initial goal-scoring struggles for Ghana.
Contrary to these perceptions, having observed the game from behind the media panels, I can confidently assert that the 29-year-old is deeply committed to the Black Stars.

My personal observations and brief interactions with him on the field before and after games reveal that Iñaki Williams is genuinely devoted to Ghana. It is evident that he was troubled by his initial goal-scoring drought for the Black Stars.
The recent breakthrough goal serves as the icing on the cake, unequivocally demonstrating that his heart belongs to Ghana, not Spain, and dispelling any doubts about his commitment to the team.
BLACK STARS PLAYERS NEED TO WATCH HIS MOVEMENTS MORE
Through careful observation, it becomes evident that the Black Stars striker consistently makes dynamic runs into spaces behind defenders.
However, a recurring issue arises as his teammates struggle to accurately locate him when he initiates these dashes toward the goal.
More often than not, the ball is not released to him when he is on the move, and on occasions when it is, the pass tends to be either over-hit or under-hit. This pattern has become a regular occurrence in the matches I have witnessed, particularly at the Baba Yara Sports Stadium in Kumasi.
In many instances during games, he finds himself isolated with minimal or no connection with the wingers and attacking midfielder.

In essence, Iñaki Williams does not receive the necessary delivery that would lead to goals, establishing a consistent theme since his arrival. Even Black Stars head coach, Chris Hughton, acknowledges this as a factual statement.
"We haven't been able to provide him [Iñaki Williams] with that type of service. We need to find the right formulas to create chances for him, and up until this moment, we haven't been able to do that," Hughton told Luv FM before the game against Madagascar on Friday night.
The one time the right delivery came to him, he delivered to perfection, hitting on the point that if the delivery to him is right, he, Iñaki Williams, is more than capable of scoring.
The 29-year-old also needs to watch the body language of his teammates too before making these runs. He needs to get a connection with the attacking options to ensure they are all on the same wavelength to create a perfect symphony to ensure goals come out at the end of an attack.
IS HE THE ASAMOAH GYAN REPLACEMENT, ALAS?
Since the departure of Asamoah Gyan, Ghana has struggled for goals, really.
Not to say Asamoah Gyan himself scored every game, but scoring 51 international goals is an achievement not many great players have been able to attain.
Ghana as a country is not spoilt for choice when it comes to strikers like how Nigeria has Terem Moffi, Victor Boniface, Victor Osimhen, Kelechi Iheanacho, Gift Orban, Taiwo Awoniyi, and many more.
Asamoah Gyan himself believes the Athletic Bilbao forward has what it takes to get goals for Ghana.
After the game against Madagascar, Asamoah Gyan took to social to emphasize the significance of providing adequate service to the Spain-based Ghanaian striker for optimal on-field performance.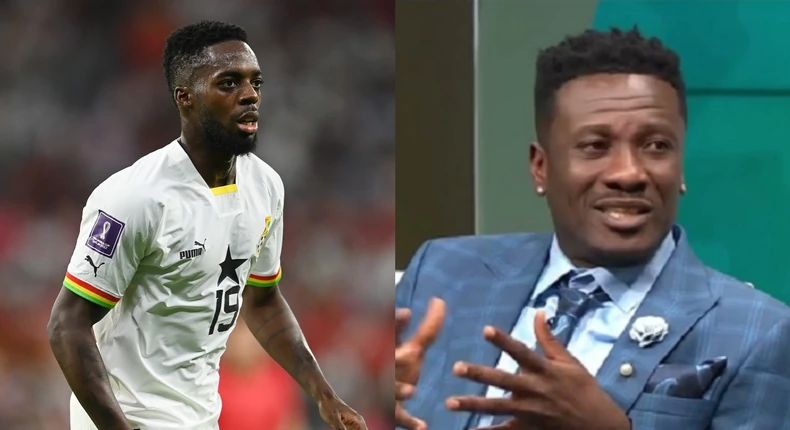 Gyan took to social media to express his viewpoint, stating, "Just feed him with 60% of the balls in attack, and he will be ready mentally to deliver. PERIOD."
In times past, Asamoah Gyan has called for Ghanaians to support Iñaki Williams after he failed to score against Angola in his home debut game.
I think everything boils down to patience. With just a couple of months away from the 2023 Africa Cup of Nations and not many games to play to prepare for the tournament, the country may feel impatient towards the Bilbao forward, but we must rally behind him.
The nation must rally behind him, offering unwavering support and trust in the players to provide precise deliveries for him to capitalize on.
While he may not be the direct replacement for Asamoah Gyan and may not reach the milestone of scoring 50 additional goals to surpass Gyan's record, he possesses a unique profile.
Although distinct from Asamoah Gyan, he is a distinctive player, and with the right tools at his disposal, he has the potential to significantly contribute to the team's goal-scoring efforts.
This awareness is shared by him, Chris Hughton, and the entire team.

If all elements align seamlessly, I am confident that Ghana's opponents will face a deluge of goals.
With the upcoming 2026 FIFA World Cup qualifiers against Comoros, there is optimistic anticipation for more goal-scoring success from the Bilbao striker.