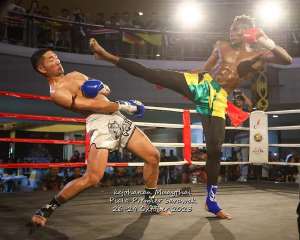 Gerald Kodjo Dah is an experienced Ghanaian Kickboxer who has made great progress and headlines in the world of the sport.
He has taken the name of Ghana very far to Asia; Thailand, Hong Kong, Malaysia and UAE where the top international athletes perform and thrill.
He believes the time is even past for the media in Ghana to support and promote combat sports.
He wants the sports media to support and help in the development and promotion of kickboxing.
He told Yours Truly it is time the Sports Writers regularly honour combat sports performers because there are many people in Ghana who can become champions and heroes like MMA champions Israel Adesanya of Nigeria, Francis Ngannou of Cameroun, Kamaru Usman also from Nigeria and Abdul Raza Alhassan of Ghana.
He expressed that sport is entertainment and business, so Ghanaians must invest in sports more to help the youth, as there are so many opportunities.
He was recently engaged in a local bout on October 26 to 28 in Bintulu, Malaysia against Sibsan from Thailand which he lost on a unanimous points decision, but he is leaving no stone unturned for another international bout coming on November 21 in Hong Kong against Rungtiwa Jantas also of Thailand.
Gerald Dah who comes from the Volta Region of Ghana is 175cm and stands at 76kg with a remarkable record of 30 fights, won 24, lost 6 and drawn 2. He steps, punches and kicks in K1 Kickboxing style and Muay Thai.
In 2013, he won the WKBC Championship in Hong Kong, in 2014, he won the WKF Kickboxing Championship in Austria, and in 2022 he was the Super Muay Thai Champion in Malaysia.
He stars for Top Dog Muay Thai Gym in Malaysia and called on Ghanaians and Africans to support combat sports.