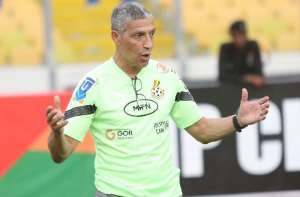 Black Stars coach, Chris Hughton, has voiced his concerns about the competitiveness of the Ghana Premier League, highlighting the growing challenge of players leaving the league to seek opportunities abroad.
In a recent interview with Akwaaba Radio, Hughton highlighted the challenges faced by the league in retaining its top talents, many of whom are lured away by greener pastures abroad.
Hughton, who is tasked with managing Ghana's national football team, acknowledged the long-standing trend of players leaving the Ghanaian league for better offers overseas.
This trend has seen many talented individuals opt for opportunities in other African countries or make the leap to European clubs following successful spells in the Ghana Premier League.
As a result, a significant portion of the current Black Stars squad consists of players who ply their trade abroad.
During the interview, Hughton stated, "This is a question for every head coach in the last couple of years. There will always be, of course, players that leave here [Ghana] and go and play in Europe, and this is something that has happened for quite some time."
He went on to emphasise the impact of this challenge on the local league's competitiveness, which, in turn, affects the pool of talent available for selection to the national team.
Hughton added, "This is always the challenge, this is a challenge for the local league, the premier league to be at a level, a competitive one that, whoever the Black Stars coach is, can look at it and pick from it."
In a demonstration of his commitment to addressing this issue, Hughton recently called up Medeama duo Jonathan Sowah and Hamidu Fatawu to the Black Stars squad.
Both players made their debuts in Ghana's 3-1 victory over Liberia in a friendly match, showcasing the coach's dedication to identifying and nurturing talent from within the local league.