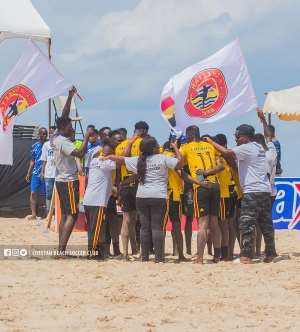 In a stunning display of skill and determination, Cheetah Beach Soccer Club has emerged victorious, securing the Ghana Beach Soccer Premier League Zone One title with an impeccable unbeaten record.
Their journey to success this season has been nothing short of remarkable.
Cheetah Beach Soccer Club, affectionately known as the Beach Predators, initially made headlines by winning the inaugural Ghana Beach Soccer FA Cup on the 12th of June, 2022.
Riding high on the momentum of this achievement, they faced off against Sea Sharks Beach Soccer Club in a highly anticipated showdown.
This clash, a repeat of the FA Cup Final, proved to be a thrilling contest that ended in a resounding 5-2 victory in favor of Cheetah Beach Soccer Club.
With their victory over Sea Sharks, Cheetah Beach Soccer Club showcased their dominance, securing the league title with a game left in the season.
The team's incredible performance throughout the campaign is reflected in their impressive statistics: they have scored an astounding 75 goals while conceding a mere 30.
Established just a year prior in 2022, Cheetah Beach Soccer Club has taken the beach soccer scene by storm.
Their rapid rise to prominence has earned them a coveted spot in the playoffs to determine the ultimate champion of the 2022/2023 Ghana Beach Soccer Premier League. As they prepare for this next challenge, their fans eagerly anticipate what promises to be an exciting and promising future for the club.