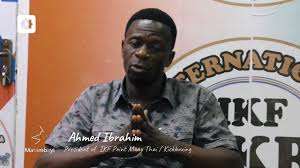 Under his stewardship, the federation has chalked several successful stories including the appointments of some Executive members to high positions at the mother federation. He recently appointed a Vice President to see to the spreading of the good news of Kickboxing for self-defence, competition and physical exercise.
Through Ahmed Ibrahim, many fighters have the chance to enhance their knowledge, develop their talents and skills and have opportunities at their doorstep for championships in Europe.
Some of the fighters are making great names as their personal glory and achievements keep increasing.
The team led by Ahmed Ibrahim deserves recognition for also laying down marketing plans to bring on board sponsorship packages in supporting the fighters during their travels.
Kickboxing is changing the face of sport in Ghana and beyond as it offers numerous golden opportunities to people with a high interest in making a good name for themselves and their country.
The sport in many ways has taken children from the street, from becoming drug addicts and dangerous to the society of which Ghana is no exception.
Recently, Kickboxing has seen massive growth with several championships and seminars held for it Federation with the vision of developing the sport.
As Ghana prepares for the African Games, his dream and hope is that the nation hosts and win the most medals in all the combat sports.