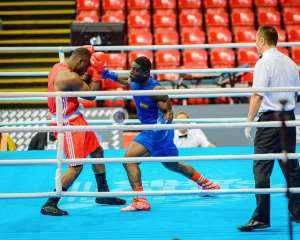 Ghana's Heavyweight boxer, Jonathan Tetteh scored a knockdown with a vicious hook in round 2 but poor judging and a late controversial point deduction cost the Ghanaian as he suffered a 2-3 split decision defeat to the Algerian and is also out of the ongoing Africa Olympic boxing qualifiers in Dakar, Senegal.
However, he feels he won, and appears for the next opportunity to qualify.
Tetteh is one of Ghana's medal hopefuls in this year's Olympic Games Qualifiers.
Ornella Sathoud was also beaten at the Quarter Final stage, in fact, her first bout by Kenya's 2012 Olympian,
The 38-year-old Elizabeth Adhiambo Andiego won by a massive 5-0 unanimous decision at the Africa boxing Olympic qualifiers ongoing in Dakar, Senegal.