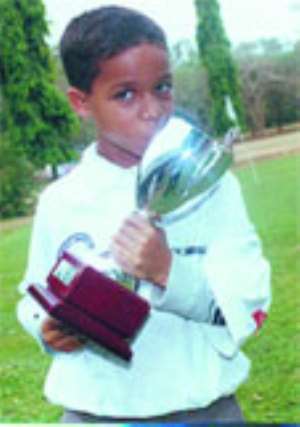 MR. FRANCIS Andoh, Mrs. Postma, Daniel List and Emos Korblah returned impressive scores to emerge winners in their various categories in the Barclays Invitational Golf tournament at the Achimota Golf Club last Saturday.
Andoh reigned supreme in the men's main event when he returned a net score of 67 in the well-organised 18-hole competition. He was trailed by Mr. Supinee, Mike Aggrey, Charles Tabi who recorded 63, 68, 68nets to place second, third and fourth respectively.
In the ladies category, Mrs. Postama with a net score of 66 finished first in the ladies main event, while Mrs. Diana Baiden and former lady captain, Joy Arkutu followed in that order.
The juniors category saw eight-year-old Lincoln Community School pupil, Daniel List emerging tops, grossing 46 over nine holes, while Piyarad Supinee and Pongpob Supinee placing second and third respectively.
Koblah swung past 12 golfers grossing 144 to win the two-day professionals event, beating Stephen Klah on countback, while Frank Asorgbah returned a gross score of 143 to place third.
Nana Bosomprah finished first with a net score of 37 in the special event organised for the seniors in the club.
The winners took home special cash prizes, magnificent trophies and souvenirs from Barclays Bank Ghana limited.
The Managing Director of Barclays of Ghana, Mrs. Margaret Mwanakatwe in her address stated that the bank decided to play to the medal format intended to bring out the best in individual players, different from last year's which was the pinehust tournament where two golfers played against each other in a team of four.
She said the competition, which was part of the country's 50th anniversary celebrations served as a platform to inform its customers about their latest product, which is the vehicle and asset finance product (Flexi-lease, flexi-rent and flexi-loan)
Mrs. Mwanakatwe thanked the golfers for honouring the invitation and congratulated the winners and promised her outfit's continued assistance to the club.
She, on behalf of the bank, presented a 30million cedis cheque for the upkeep of the club.