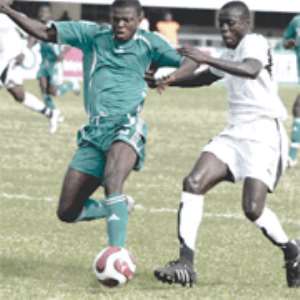 Nigeria's Golden Eaglets sold a sterling show to beat Ghana's Black Starlets 2-0 last Saturday to top Group B of the Africa Under-17 football championship in Togo.
The Nigerians scored in each half and left Ghana musing over a date with host nation, Togo, in Wednesday's first semi-final at the Kegue Stadium where Africa's final showdown for the continent's Champions will be decided.
Midfielder Rafael Ademola gave the Golden Eaglets the lead in the 40th minute, and substitute Kabiru Akinsola confirmed the victory two minutes from time. This gave Nigeria coach, Ayidele Tella, confidence to declare that, "We are going to win the cup".
It was a game the Eaglets dominated and left little doubts about their ability to win, even on a day they missed the ingenuity of playmaker, Rabiu Ibrahim.
Starlets coach, Fred Osam Duodu, who assigned Ishmael Yartey a creative deep midfield role, but only introduced key players Ransford Osei and Abeiku Quansah during the game, admitted after the game that "this is football, two teams played and the better side won."
It was a sweet victory for the travelling Nigerian fans in particular who taunted the Ghanaians long after the game with shouts of 'Ghana must go!, Ghana must go!', a refrain that reminds Ghanaians of a sordid experience in Nigeria when they were forced out of the country during Ghana's economic crisis in the early 1980s.
They had reason to celebrate, at least, for the redemption Coach Tella had masterminded, though the virtually academic tie could hardly compensate for Nigeria's 1-4 loss to the Black Stars in a friendly and the Black Meteors' qualification for the World Cup at the expense of Nigeria, all within one month.
Despite Ghana's impressive start, Nigeria rued their failure to grab the lead earlier following misses by Gani Oseni in the 17th and 24th minutes.
But once Ademola shot them in front with a headed connection to a rebound after goalkeeper Abraham Hoenyedzi had spilled, the Eaglets showed class in defending and an ability to counter attack.
Hoenyedzi came to Ghana's rescue twice in the 52nd and 57th minutes when those counter attacks caught the Starlets off balance, while another such effort after 85 minutes saw Gani Oseni's ball roll across the face of the Ghana goal.
The warning had hardly sunk down when Akinsola rose majestically to nod home the ball after Hoenyedzie pushed out Oseni's powerful drive following a hard run on the right.
It was over at that point and the celebrations were total among the almost 1000 Nigerian fans who had embraced their Ghanaian counterparts – made up mainly of the National Supporters Union – before the match.
Burkina Faso beat Eritrea 3-0 in the other group game involving the group's home-bound sides.
Nigeria will meet Tunisia in a difficult tie on Wednesday.
Story by Michael Quaye