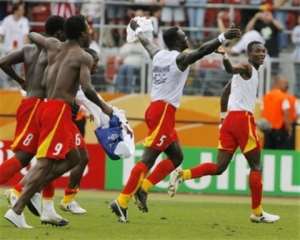 ... Argentina is #1
Ghana moved into the top 20 of the FIFA's world rankings list for the first time since 1996. Ghana is now the 19th in the world and the second best in Africa
Ghana climbed from 22nd place partly as a result of their 4-1 thrashing of Nigeria in February and partly because older results have expired and are no longer used for the points evaluation.
Argentina moved into top spot dislodging world champions Italy whose reign at the top of the table lasted just a month. Italy slipped down to second and Brazil, leaders for four and a half years until January, slipped to third. There were no other changes in the top 10.
Cameroon are the highest placed team from outside Europe or South America. The Africans are 18th on 893 points, ahead of Ghana and Ivory Coast, a further place back.
The biggest movers in the top 50 were Finland, the surprise leaders of Euro 2008 qualifying Group A, who have climbed 15 places to 33rd. Panama have climbed 20 places to 54th and are the biggest movers of the month.
Iran are the highest ranked Asian team in 34th place (705 points), with Australia 40th (657) and Japan 42nd (639).
The Top 20 positions:
1. Argentina 1616 points
2. Italy 1592
3. Brazil 1557
4. France 1515
5. Germany 1390
6. England 1339
7. Netherlands 1313
8. Portugal 1288
9. Czech Rep 1195
10. Spain 1161
11. Ukraine 1037
12. Croatia 982
13. Greece 961
14. Romania 919
15. Sweden 914
16. Scotland 911
17. Switzerland 906
18. Cameroon 893
19. Ghana 881
20. Ivory Coast 875