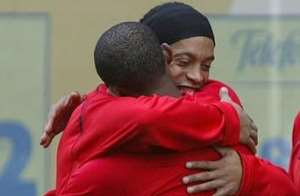 Barcelona striker Samuel Eto'o has spoken out in defence of Ronaldinho after the recent criticism of the Brazilian star.
Ronaldinho has been blasted for his mediocre form in some sections of the media, with many suggesting he is overweight.
But Eto'o said: "To his critics I will say this, he isn't struggling and never has. He has incredible qualities. I don't understand these crazy people: when it is not the belly of Ronie, it is other things. I know that newspapers need stories to sell every day."
Coach Frank Rijkaard will be delighted to hear these words, as there was allegedly a problem between the pair a few weeks ago when Ronaldinho publicly stated that Eto'o should not have refused to come on as a substitute.
Meanwhile, Eto'o also praised Lionel Messi and made no apologies for running onto the pitch after being substituted to congratulate the Argentine for scoring a hat-trick in the 3-3 draw with Real Madrid on Saturday.
He added: "I just started running - I didn't know where I was going. The joy was so immense that I had to get onto the pitch and celebrate. With this hat-trick, I am convinced Leo is going to get better and better."