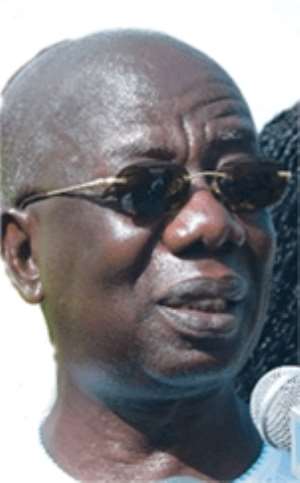 The Chief of Staff and Chairman of the Planning Committee of the Golden Jubilee celebrations, Mr. Kwadwo Mpiani says the decision to purchase a fleet of cars for the celebrations was carefully considered.
There have been raging debates over the propriety of the [email protected] Planning Committee to spend $5.9 million of the entire budget of $20 million on vehicles for visiting dignitaries.
The vehicles are made up of 50 BMWs, 50 Benz, 50 Chryslers, 50 Peugeot saloon cars, 30 Jaguars and 25 buses.
Among other arguments, there have been suggestions the Committee could have resorted to car rentals at a fraction of the cost for the same quality of service.
Contributing to a discussion on Joy FM's current affairs programme 'Newsfile' on the fleet of vehicles, Mr. Mpiani said talk could be cheap, however it was not that cheap to organise the number of cars needed for invited dignitaries.
The Chief of Staff explained that the Committee decided not to go to the car rental companies because they do not have enough cars, while the few would have to service various airlines in the country who he said are all booked.
"How many rental vehicles do we have in this country? And assuming we are saying we won't import vehicles, we are going to use the rental vehicles, go to all the hotels and ask the airlines, they are all fully booked up to the middle of the month. Supposing we take all the rental vehicles from the rental companies, these people coming in which vehicles are they going to use?
He said Ghanaians need to discuss matters dispassionately.
"I can tell you that if you go round all the rental companies in the country, you won't get 400 motorable rental vehicles in the country and even assuming we do that what happens to the other people who come in? Where do they get vehicles to move round?"
Mpiani said when Ghana celebrated her 40th anniversary of independence and also during the NAM Conference, the nation purchased more vehicles than was currently being complained about and promised he could the evidence if given the time. At the time he spoke, he said he was on his way to a meeting.
"We are behaving in this society as though everything must be politicised, partisanship."
He said Ghanaian officials visit other countries and should know that it is the standard that when a head of state visits another country, five of his entourage are also provided vehicle and accommodation.
"You don't want to put the head of state, if he is coming for example with the wife or husband, and the ministers all in one car."
On the brands of cars bought for the occasion, he people should not be deceived into concluding that they were more expensive than some other brands that could have been purchased for less.
"If I tell you that the quotations we got, Jaguar was less expensive than say VW Passat and Peugeot you may be surprised but because when we were kids we were made to believe that Jaguars are the most expensive cars but the quotations we had, Jaguars was below the cost of Passat and Peugeot."