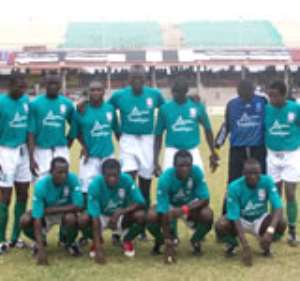 Accra, Feb 23, GNA - Lepowura Alhaji Mohammed Nurudeen Jawula, Board Chairman of Real Tamale United (RTU) Football Club has assured the teeming supporters of the team that the Club will survive relegation.
The Tamale-based Club currently occupies the 12th position on the 16-Club Premier league but with a better goal difference from the relegation threatened Clubs. RTU is experiencing one of its worst season since joining the elite division in 1978, which the Board Chairman attributed to the three match home ban imposed on them by the Ghana Football Association (GFA) last year.
The 'Pride of the North" was slapped with the punishment following crowd violence during a league clash against Kumasi Asante Kotoko last season and the ban was implemented at the beginning of this season.
Lepowura Alhaji Jawula told the GNA Sports that playing their first three home matches away from home really affected the team, as they had to shuffle between Obuasi and Cape Coast to honour their home games.
The Club during the spell, only managed to bag two points from the possible nine including a 1-2 defeat to Great Olympics at the Robert Mensah Sports Stadium in Cape Coast.
Lepowura Alhaji Jawula said that 93Since the Kaladan Park had to undergo some renovations works during the return of the team to their fortress, it took some time for the players to adjust to the changes for them to meet their normal home invisibility and peak up, hence the difficulties they are currently facing".
The fortunes of the Club suffered another blow when back from suspension midfielder Nurudeen Wemah got injured in his first match for team in their match against King Faisal at the Sunyani Coronation Park during the second round.
The RTU Board Chairman explained that the alleged clash of authority between head coach Papa Tcham and his assistant Mumu ni Gamel has been sorted out after a meeting with the two parties.
The performance of the Club led to some mixed feelings among soccer fans especially at their home base, the Tamale Metropolis with the construction of an ultra-modern 20,000 capacity stadium in the Region.
Contrastingly, Lepowura Alhaji Jawula allayed the fears of the supporters as he insisted that RTU will definitely use the venue next year in the premiership.
"We will surely play at the new stadium next year, not in Division One but the premiership."
He said Management has therefore psyched the players up for the rest of the matches in the premiership in their quest to maintain their premiership status.
Lepowura Alhaji Jawula has therefore called on the teeming fans of the Club not to be down hearted but to continue to support the team as they fight the relegation wind currently blowing around them.
RTU, the only Club in the premiership from the Northern part of the country have never been relegated since joining the elite division in 1978.