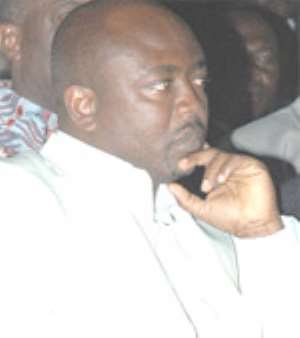 … Over Player Transfer
THREE-TIME AFRICAN footballer of the year and founder of Division One League side, FC Nania, Abedi Ayew Pele, may be forced to march to the court rooms to face justice unless he coughs out over $63,000 to Owerriman Football Club, a Ghanaian second division side.
Abedi, who captained Ghana's senior national team, the Black Stars for over a decade, is being challenged by the founder and owner of second division side, Nana Batafo Akyeampong Nti II, over the transfer of player Kwabena Ayamba to Swiss side, Saint Gallen FC.
Narrating his side of the story to Daily Guide Sports last week from his Konongo base, Nana Batafo Akyeampong Nti II, who happened to be the Konongo-hene, claimed the former Black Stars skipper had since 2004 refused to pay him his 25% share of $300,000, being the transfer fee of player Kwabena Ayambah.
According to Nana Batafo, on October 20 2002, he freely transferred the said player, a striker, together with two others from his second division side, Owerriman Football Club to FC Nania, owned by the former Marseille player, whose club by then was also a second division side.
He pointed out in the agreement, it was made clear to both parties that should FC Nania secure another club for the player, be it local or foreign, Owerriman would be entitled to 25%, which both parties agreed to, with Prince Owusu, head coach of Nania, signing for the club, while Nana Batafo did same for his club, and that the deal was witnessed by one Samuel Dwumah on October 20, 2002.
Nana further explained that about two years after the player's transfer to Nania, he was informed by Abedi Pele during one of his visits to Accra that he had successfully secured a club for the player in Switzerland.
It was however after consistent phone calls and severe pressure on Abedi regarding Owerriman's share of the player's transfer fee that the soccer maestro gave Nana an amount of $10,500, but never mentioned to him the exact transfer fee involved.
He said the former soccer star told him he would pay him a visit at Konongo for issues to be discussed.
He added that Abedi claimed he spent $18,500 as expenses to enable the player join the Swiss side. He gave the breakdown as; $3,000 for airfare, $10,000 being the agent's fee with $4,000 going to some four coaches.
All this time, (from 2005 to 2006) Nana alleged Abedi never disclosed the transfer fee to him, let alone produce documents regarding the transfer, despite consistent requests for photocopies of the documents, since he was entitled to 25% of the transfer fee.
Nana, said when he, together with officials of Owerriman Football Club visited the website of Saint Gallen FC, they had the shock of their lives: The said player was transferred by FC Nania for $300,000 with his name also changed from Kwabena Ayambah to Kwabena Agouda, which they later found out, was masterminded by Abedi Ayew Pele.
According to Nana, his decision to resort to the law courts resulted from Abedi's refusal to give Owerriman FC what was due them, despite several petitions to the Ghana Football Association and the Ministry of Education, Science and Sports.
"I have on many occasions tried that both parties settle this issue amicably due to the respect that I have for the former African star, but it seems Abedi wants to play a fast one on me.
Not even letters to the GFA and the Deputy Sports Minister, Mr O.B. Amoah, has moved him to come over for settlement," he noted.
However, all efforts by this paper to reach Abedi Pele for his side of the story since last week have proved unsuccessful.
Agouda, whose contract with Saint Gallen expires after this soccer season, featured for Ghana at the 2003 All-African Games in Abuja, Nigeria, after featuring for Owerriman for six seasons, where he played alongside Italy-based Black Stars mid-fielder, Sulley Ali Muntari.