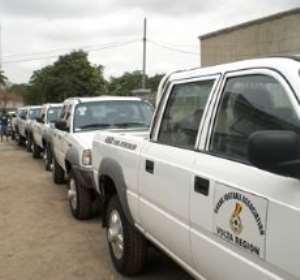 Right from their assumption of office in December 2005, the Ghana Football Association headed by Kwesi Nyantakyi and the Executive Committee have had to deal with the restructuring of the game.
Aside national team programmes and league football activities the FA continues to share resources, expertise and experience with all stakeholders who undoubtedly contribute to the development of football in Ghana.
However, on Thursday, the Ghana Football Association moved a step higher in ensuring that the Regional Football Associations get moving to improve their work in the regions and districts with the historic donation of ten Tata manufactured 4x4 truck vehicles to the ten RFA's.
The purchase of the vehicles is expected to enhance the working schedules of all Regional Football Associations.
Ghana Football Association President, Kwesi Nyantakyi says the purchase of the vehicles would strengthen the operations of grassroots football development across the country.
"We hope the vehicles would improve the operations of all the RFA's and support the grassroots development of football.
"The operations of the RFA's would be greatly enhanced by this donation," Kwesi Nyantakyi said.
The formal handover of the vehicles on Thursday at the FA headquarters in Accra was attended by Minister of Sports, Papa Owusu Ankomah and his deputy, O.B. Amoah and other Executive Committee members.
The sector minister for Sports, Papa Owusu Ankomah stated that the FA's operations at improving football in the country falls in line with government's vision for sports.