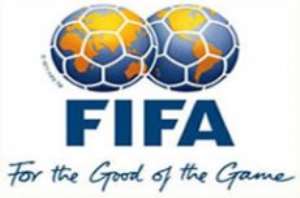 FIFA has declared Ghana winners of the first leg tie over Burkina Faso in the African preliminary qualifying round for the Beijing Games.
The sport body upheld a protest filed by Ghana against their first round opponents for fielding two unqualified players.
FIFA has thus cancelled the result of that game declared the Burkinabes losers and credited Ghana with a three goal advantage ahead of the second leg on March 25.
Burkina Faso won the game 2-0 at home but would now come into the second leg tie three goals down following FIFA's ruling.
Ghana before kick off protested against the eligibility of Saidou Maidy Panandetigu and Fousseni Traore and subsequently lodged a complaint with competition organisers, FIFA over the use of the two players by Burkina Faso.
The Burkinabes flouted competition rules with the use of two unqualified players who are clearly over-aged for the competition.
Soccer governing body, FIFA in its circular dated August 3, 2006 for participation for the men's football preliminary competition for the Beijing 2008 stated clearly that only players born after January 1, 1985 could in the preliminary round.
Records given by the Burkinabes show that of Saidou Maidy Panandetigu captain of the with registered with shirt number 12 with his passport number S 1108688 was born on March 22, 1984 while Fousseni Traore with jersey number 4 and holding passport number S 1106385 and born on July 18, 1984.
However, under FIFA's Match Eligibility regulations .13.2, it states that: "Only players born on or after 1 January 1985 are eligible to feature in the preliminary round of the Beijing 2008 competition."
Three tickets would be available to next year's football tournament at the men's Olympic Games from the African continent.