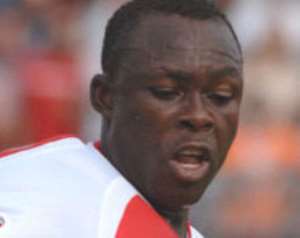 The agent of Rimini midfielder Ciro Barusso has revealed AC Milan are outright favourites to land the Ghana international in the summer.
Barusso is currently recovering from a broken-leg and his agent, Mauro Cevoli, told Tutto Mercato Web: "I know that AC Milan were in advanced talks with Rimini when Barusso was at the top of his form. Things have cooled off since his injury.
"There is an excellent relationship between Milan and Rimini.
"My associate, Leonardo Giusti, and I only have the task of maintaining contact with the Rossoneri leading up to the summer market. The player will leave in June - if he wants."
Along with Milan, Cevoli also confirmed serious interest had been expressed by Roma this season in Barusso.