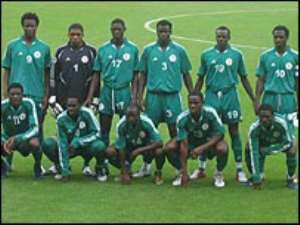 The Head Coach Of The Nigeria's 'Dream Team' Samson Siasia has said he is not coming to Ghana to avenge the defeat of the Super Eagles by the Black Stars Of Ghana about a fortnight ago in London but to ensure Nigeria get the qualification to the All African Games in Algiers later this year.
Samson Siasia said,"though the defeat of the Eagles by the Black Stars of Ghana is still fresh in the minds of Nigerians , my mission is not to avenge the defeat but to qualify the team for the African games.The coach who described the game as a tough encounter was hopeful getting good result at the end of hostilities.
He revealed that, he had the chance to watch the Meteors play the Ivorians in Ivory Coast and from what he saw he does not foresee his team losing to the Meteors in Ghana.
''My team is capable of beating the Meteors in Ghana and if this happens, the second leg will be a mere academic exercise'' the coach said.
According to Siasia, the NFA has given the team the needed support and cannot afford to disappoint Nigerians this time too.
''We know how important this game is. We are coming with the best of players we can assemble including professionals and I believe with the kind of determination I am seeing from my boys , we will take the Ghanaians by storm''Siasia said.
The team according to the coach will arrive in Ghana on Thursday and has called on all Nigerians living in Ghana to come to the Coronation Park on Sunday to support the team to victory.