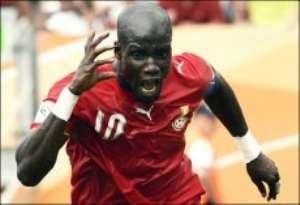 Although not a tournament sponsor at the 2007 Women's World Cup and the 2008 CAN, Puma is hoping to gain positive coverage through its sponsorship with Ghana.
Officials of the Ghana Football Association and a five-member team from the German kit firm held a meeting in Accra on Tuesday to discuss Puma's plans for the nation in the coming years.
Puma's team led by its vice-president, Horst Widmann briefed the FA about the company's incentive package for the women's team, the Black Queens for September's FIFA Women's World Cup to be hosted by China.
The meeting also discussed the proposed new designs by the Kit firm ahead of the 2008 African Cup of Nations to be hosted by Ghana.
The discussion of the new designs forms part of Puma's policy of changing their designs after every two years.
Both parties also discussed the Puma project for CAN 2008.
Tuesday meeting reviewed the partnership deal brokered in October 2005 as it also discussed other issues of mutual interest.
Ghana ended her long search for a kit sponsor in October when German sportswear giant Puma signed a three-year renewable kit deal the GFA.
The contract came into effect on 1 January 2006.