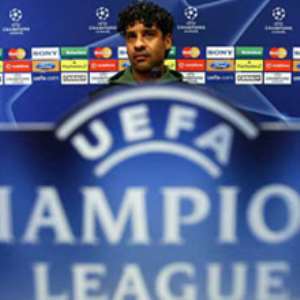 Frank Rijkaard has more than one reason to be excited about facing Liverpool FC in the UEFA Champions League, as he was a big fan of the club when younger.
'Wonderful side'
FC Barcelona's Dutch coach is relishing the prospect of tackling the current Liverpool team as the last two winners of the competition go head to head in the opening leg of their last-16 encounter. But it was the team that lifted the European Champion Clubs' Cup three times in eight seasons, between 1977 and 1984, that really caught his imagination. "They had a wonderful side with players like Kenny Dalglish," the 44-year-old said. "I have fond memories from my childhood of watching them and enjoying their one-touch football."
Eliminator
Despite his admiration for the Premiership outfit, Rijkaard is keen to ensure they do not add to their five wins in the tournament. "I like their style," he said of the Rafael Benítez vintage. "They have some great players and a great coach and play good football." So the holders cannot afford another defeat in this two-legged encounter, having slipped up against Chelsea FC in the group stage. "It is a different situation because it is two matches and you can go straight out, so the effect is more direct," Rijkaard conceded. "It does not really change things for us, though, as we always go out to win."
Messi bonus
Samuel Eto'o will sit out the game, having missed Sunday's 2-1 league defeat at Valencia CF in order to continue his recuperation following a knee problem. Lionel Messi is approaching full fitness having recovered from a broken toe and Rijkaard is pleased to have the Argentinian back. "Messi is fit again and he is ready. I do not want to focus on him, though, as I do not like putting pressure on my players. I understand why everyone is happy to have him back, however." Lilian Thuram is also available following a thigh complaint, but Edmílson, Santiago Ezquerro and Sylvinho have been omitted from the squad.
Safety first
Liverpool boss Benítez was undefeated at Camp Nou in three visits as Valencia coach, but he does not see any precedents ahead of this fourth trip. "They have a different team now and it is a different situation," he said. "Barça are always strong at home. I am just pleased that the second game is at Anfield and we are counting on that. The aim in the first match is to prevent them having too much possession."
'Stop them scoring'
Not that the Spaniard will have any qualms about nullifying Rijkaard's men by operating a tight defence and playing on the counterattack. "I would say that 95 per cent of teams that come to Barcelona do the same thing. It is not easy when they have 70 per cent of the possession to stop them scoring, but that is what we want to do. It then depends on our counterattack because if we score, it would change the whole match."
Probable teams
Barcelona: Víctor Valdés; Gianluca Zambrotta, Lilian Thuram, Carles Puyol, Giovanni van Bronckhorst; Xavi Hernández, Rafael Márquez, Deco; Ronaldinho, Lionel Messi, Eidur Gudjohnsen.
Liverpool: Pepe Reina; Steve Finnan, Jamie Carragher, Daniel Agger, John Arne Riise; Steven Gerrard, Mohamed Sissoko, Xabi Alonso, Boudewijn Zenden; Craig Bellamy, Dirk Kuyt.