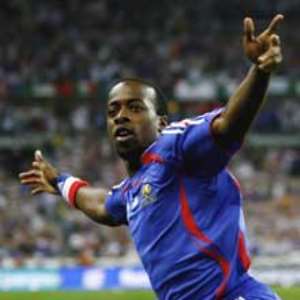 Sidney Govou has enjoyed mixed fortunes against Italian opposition over the past 12 months but the Olympique Lyonnais forward will have an opportunity to lay some painful memories to rest against AS Roma at the Stadio Olimpico.
Italian heartbreak
Lyon's most recent trip to the peninsular ended in heartbreak as two late AC Milan goals accounted for them at the quarter-final stage of last season's UEFA Champions League. Govou started that game at the San Siro, and was also part of the France squad beaten by Italy on penalties in the FIFA World Cup final.
'Tough opponents'
The 27-year-old gained some personal revenge by scoring twice to help Les Bleus beat the Azzurri 3-1 in a UEFA EURO 2008™ qualifier in September, but he knows from experience just how hard it can be to get the better of a Serie A club. "They're always very tough opponents," he explained. "Even when you're on top it's difficult to score because they keep their shape. Then if you manage to score you have to keep fighting because Italian teams don't give up and the game is never over until the final whistle."
Patchy form
Lyon may have claimed more points than any other club during the group stage but some patchy domestic form has shaken their confidence of late. Govou, however, is convinced that the five-time French champions are back on track after claiming maximum points from their last two Ligue 1 matches, against FC Lorient and LOSC Lille Métropole. "If the Roma game had come along two or three weeks ago it would have been different but we're feeling confident again after those wins," he said.
'A different flavour'
"Winning is so important from a psychological point of view," Govou continued. "Our level of play can still improve but I believe the European matches will bring the best out of us. The Champions League is different to Ligue 1. The games have a different flavour and we've proved in the past we can perform when it matters."
I'm determined to win this competition eventuallySidney Govou
'I'm determined'
One of the most experienced players in the Lyon side, Govou is enjoying his seventh consecutive Champions League campaign. As yet neither he nor Lyon have ever gone beyond the quarter-finals, but the pacy winger remains confident that their time will come. "Every year we put more pressure on ourselves because we keep getting stronger and our ambitions continue to grow," he said. "But there's no danger of my motivation fading after so many failed attempts. I'm determined to win this competition eventually."