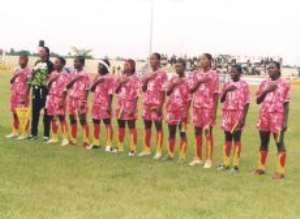 Ghana's women's Olympic team are bracing up for Saturday's first leg qualifier for the Beijing Games with an away tie against Angola.
The women's Olympic qualifying series begins over the weekend for Africa's sixteen nations vying for the single slot to the 2008 Beijing Games.
And the Black Queens play away to the women's team of Angola in the first round of qualifiers for the Beijing Games on Saturday with the return leg slated for March 11.
After narrowly missing out of the 2004 Athens Olympic Games, Ghana coach Isaac Paha is exhuming enough confidence in his team's all-round playing style to ensure a win in Luanda.
"Our strength is the players' ability to move around and play in different positions at any given time.
"I am convinced that with this kind of strength, we can get a positive result on Sunday."
Africa has a single slot for the Olympic Games and the 16 nations competing in the qualifiers this weekend are seeking to pick the sole ticket.
Aside the single slot for Africa, the runners-up from the CONCACAF and CAF qualifiers would be compete in a one-off decider for a place in the Olympic competition.
The other fixtures for the qualifying rounds are Liberia-Ethiopia, Nigeria-Senegal, Guinea-Zimbabwe, Eritrea-Morocco, Equatorial Guinea-South Africa, Namibia-DR Congo and Mozambique-Algeria.