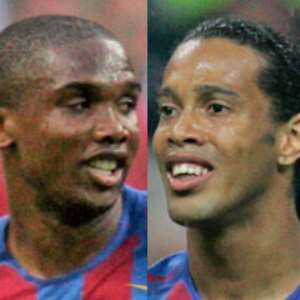 Eto'o and Ronaldinho have made peace
Carles Puyol was key to Samuel Eto'o making up with Barcelona teammate Ronaldinho after his astonishing outburst earlier this week.
In front of ten journalists, Eto'o and Ronaldinho embraced for the cameras yesterday as a clear sign that all was forgiven between the two superstars.
Meanwhile, it's emerged that Barca skipper Puyol took it upon himself to mend the cracks threatening to rip the dressing room apart.
In the morning he met with Eto'o alone for a chat, before inviting coach Frank Rijkaard and later Ronaldinho to speak with the Cameroonian. Xavi also sat in on a meeting as part of his role in the club's leadership group.
During their chat, Ronaldinho told Eto'o that he "had not set the best example", but he invited his teammate to "just do the best you can for the team" before offering his hand. The handshake between the two sealed the peace summit.
Rijkaard later said: "I want to give my congratulations to the group and to the captain. The issue has been solved fast and openly, and the only desire of the players is to continue working together."