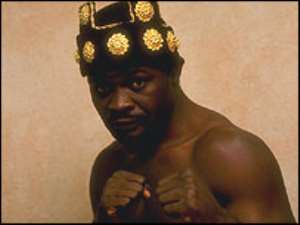 Tsito-Awudome, (V/R), Feb. 15, GNA - Professor Azumah Nelson on Wednesday observed that sports remained the best medicine that can ensure prolonged healthy living that money cannot buy.
"Any nation that therefore takes sports seriously can cut down on its medical budget and channel the resources for other socio-economic needs".
Professor Azumah made the observation at the 10th anniversary celebrations of the Tsito Sports and Culture Association (TSCA) at Tsito-Awudome.
He said that sports help especially the youth to develop values that could keep them away from such bad habits like drug usage and its abuse and pre-marital sex.
Professor Azumah said the disciplined aspects of sports could never be undermined because it cuts across all spheres of life. He said it was therefore important that the nation pays serious attention to all sporting disciplines.
The boxing professor announced that he had started a programme in Accra and Akuse to engage children in sports and education adding that the programme would be extended to the Volta Region.
Mr Henrik Jensen, Executive Member of Danish Sports and Gymnastics Association, partners of TSCA said sports was a healthy and enjoyable pursuit for people of all ages that fosters social development and a sense of personal achievement.
He said "Unfortunately, the aging population for which sports is extremely important, fail to engage by undertaking various physical exercises".
Mr Jensen regretted that most young people were nowadays drifting away from sports, as they were attracted to the "tyranny of the screen" with videos, the Internet and mobile phones as their main recreation. He said it had therefore become imperative for nations to make sports attractive for all in view of its immense socio-economic benefits.
Mr Alfred Coffie, President of TSCA said that though majority of the members were over 50 years, they scarcely suffer any illnesses that would require medical treatment.
He said this was due to the regular exercises and suggested that the Ministry of Education, Science and Sports to consider a "Sports for all Programme" as a necessary curricula in schools for children to see sports as part of life.
Mr Coffie commended the DSGA for its regular support to TSCA and called on other stakeholders in the sports to assist the Association in kind and cash.
Togbe Gbogbo Dake XII, Chief of the town later donated an amount of 10 million cedis on behalf of the chiefs and people of the Area to the Association.
Source:
GNA