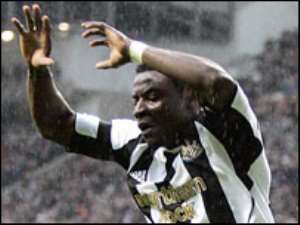 Newcastle United striker Obafemi Martins has apologised for missing Nigeria's 4-1 loss to Ghana last week.
Martins was released to play by his English Premiership club Newcastle but returned to Nigeria to look after his sick mother instead of.
"I apologise to the FA and the players because I know it was a very important game," he told BBC Sport.
"But I also believe my mum is more important than the game."
The Nigeria Football Association have threatened to punish the striker for his absence. possibly with a suspension from playing for the Super Eagles.
But Martins does not think that any further action will be taken against him.
He also says that he will be available to play for Nigeria in the future.
"When I'm called upon I'll play for them, because you have to respect the national team," he said.
"I do respect the Super Eagles a lot, so anytime they call I'll come and play."