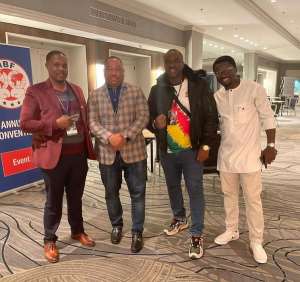 Ace Power Boxing Promotions has proven over the years that they can stage big fights and their records show.
Chief Executive Officer of the enterprising Ace Power Promotions, Mr. Isaac Amankwah says they want to partner or collaborate with some of the top-ranked promotional outfits in the United States of America or United Kingdom and Australia to manage and promote some boxers.
He noted that Ghana has talent as boxers can be found in every part of the nation, but talent needs to be groomed and polished with technical, financial and moral support to excel.
Mr Amankwah who is currently in the US attending the International Boxing Federation (IBF) Convention in Chicago is optimistic about landing a partnership or support with advanced people and entities.
He named some of Ace Power Boxing featured boxers as Holy Dorgbetor, Samuel Martey, Robert Quaye and others who are yet to be known publicly.
He thanked his Founder and Chairman of Ace Power Boxing Promotions for his contributions to Ghana Boxing and Sports Media.