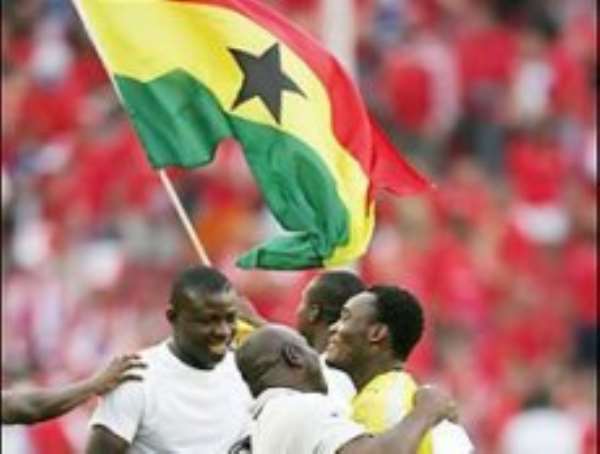 All eyes would be on Ghana on Wednesday, a day after the beating Nigeria 4-1in an international friendly but the Olympic team would be begin their quest to qualify for the 2008 Olympic Games with a game against Burkina Faso.
Now, the baton is passed to the country's prospective Olympians as the dream of playing in Beijing commences.
Ghana's Olympic team expect to follow in the winning shadows of the senior side, the Black Stars when they line up for Wednesday's evening clash in Ouagadougou in the preliminary qualifying round for the Olympic football competition at the 2008 Beijing games.
After enduring a harsh treatment by their host, Ghana are bent of starting off the qualifier with a win and inch closer to picking one of the three tickets available on the continent for the Beijing Games.
Ghana coach, Cecil Jones Attuquayefio, Tuesday evening had his final training session at the match venue with all his squad members and looked confident of winning over the Young Stallions in the first leg.
Few had envisaged the poor treatment handed the Ghanaian contingent but the task of completing the Burkina Faso mission before an expectant home crowd is the Olympic team's target.
Executive Committee member and head of the team's management, Randy Abbey after sitting through 90 minutes of action behind the screens with the rest of the team to watch the senior side on Tuesday give Nigeria a real thrashing is relishing another Ghana win in two days.
"We are very confident of winning. Everyone is set for tonight's game and the team would win this tie," Randy Abbey said.
Cecil Jones Attuquayefio has a tall list to select his starting team from after Israeli-based striker, Samuel Yeboah joined his colleagues in camp on Tuesday.
The only player absent is Nafiu Iddrisu who was not released by his club, Asec Mimosa of Ivory Coast.
Three tickets would be available to next year's football competition at the Olympic Games from the African continent as the preliminary qualifying round begins on the continent.