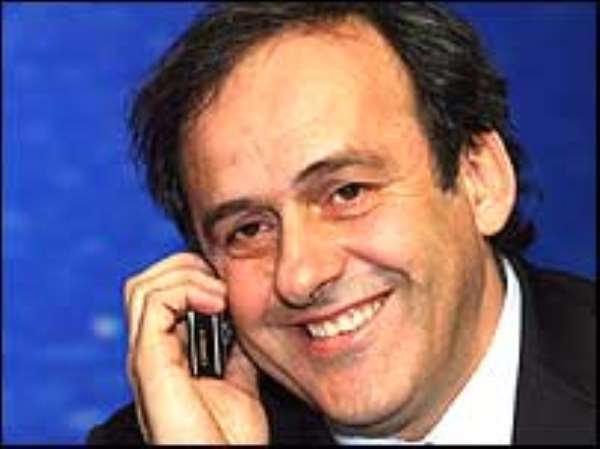 Former France captain Michel Platini has been elected as Uefa's new president, ahead of rival Lennart Johansson after a vote in Dusseldorf.Johansson, 77, has held the post for the last 16 years.
Platini wants to limit the number of Champions League places to three per country, rather than the current four.
"This is just the beginning of an adventure. I'm happy to be able to represent European football.
I'm very moved and very happy," Platini said. "When I was a footballer, when you won a great victory you received a cup and went on a lap of honour.
"This is a great victory for me but I'm not going to do a lap of honour because now the work starts."
The election result was close - had Platini won two fewer votes he would not have achieved an absolute majority of the 50 valid votes and a second ballot would have been held.
The 52 members who now comprise the European confederation, the richest and most influential in world football, decided on the outcome in a secret ballot.
Platini immediately invited Johansson to become an honorary president of Uefa.

The 51-year-old former France star said: "This is a great victory but I have
platini
huge admiration for Lennart and I would ask for Lennart Johansson to become an honorary president of Uefa."
Johansson was given a standing ovation by the delegates at the invitation of Platini.
The Swede was openly against Platini's proposed changes to the Champions League.
Johansson said: "I don't want to be impolite to a colleague on the executive committee. I've already asked him why he wants to introduce changes to this success story.
"The Champions League is covered by numerous television stations around the world and there are a lot of sports that are trying to copy it.
"The future is his but he has to learn and gain in experience."
Sports minister Richard Caborn congratulated the new president and paid tribute to his predecesor.
"Uefa have now made their decision and I want to thank Lennart Johannson for leading Uefa into a constructive dialogue on the European governance of football," he said.
"I congratulate Michel Platini on his election, look forward to meeting him and continuing the constructive dialogue that we started a few weeks ago."