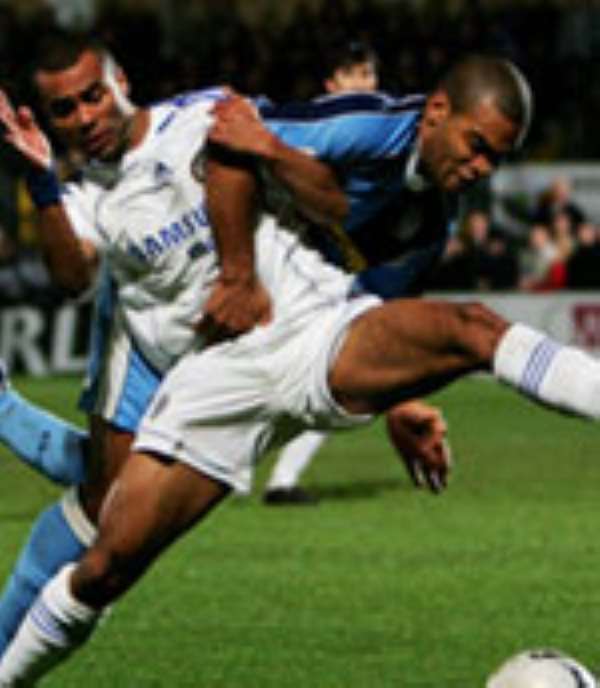 Billed as the proverbial contest of David versus Goliath, Wycombe travel to Stamford Bridge for a Carling Cup semi-final in optimum spirits having shaken, if not toppled, Chelsea at Adams Park in the first-leg.
Wycombe make the trip to West London on an equal footing after Jermaine Easter's goal on home soil maintained his remarkable record of having scored in every round, in the process securing a well deserved 1-1 stalemate.
In contrast, the mood in Chelsea's camp is said to be rivalled only by Siberia in its frostiness, with all eyes likely to be on the key protagonist in the drama, Andrei Shevchenko, should the Ukrainian be handed a start by Jose Mourinho.
Chelsea will not be taking their League Two opponents lightly and well aware that a place in the final would lift flagging morale, Mourinho will go with his strongest possible line-up. Whether this includes Shevchenko remains to be seen.
While the champions have struggled to score goals of late, at the other end they have been blighted by a succession of injuries that has tested a squad that has made full use of Roman Abramovich's millions over the past few years.
Mourinho has spoken of the natural struggles his side have faced, particularly at Liverpool on Saturday, in having to employ midfielder Michael Essien, and full-back Paulo Ferreira as a central defensive partnership.
Neither could cope with the aerial bombardment Liverpool dropped on the head of Peter Crouch at Anfield and it seems likely Wycombe will do likewise with Tommy Mooney, who caused all manner of problems for them at Adams Park.
Chelsea could be boosted with the return of Ricardo Carvalho after a fever and the availability of Claude Makelele from suspension could prove crucial in making them tick in the middle of the field.
Mourinho will not, though, be able to call on Arjen Robben, John Terry, Khalid Boulahrouz, Joe Cole or Wayne Bridge - who all occupy a congested treatment room.
Wycombe head into the game on the back of a disappointing 1-1 stalemate with Accrington but bolstered by the return of Will Antwi and Matt Bloomfield, who are both expected to win recalls having impressed in the first-leg.
For all their alleged problems, Chelsea's myriad of talent should, and the bookies suggest, will secure a final place but whilst the underdog dares to dream, the magic of the cup could yet strike at Stamford Bridge.
SOURCE:
DILASO(SPIRIT FM&SOULHOUR)AMSTERDAM