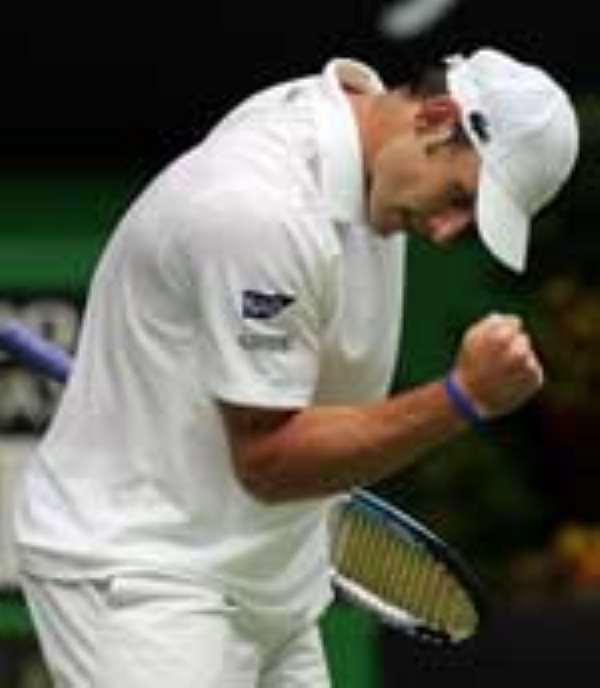 Andy Roddick blazed into the semi-finals of the Australian Open with a three-set destruction of old school friend Mardy Fish in Melbourne.
'A-Rod' managed to put his friendship with Fish to one side as he pummelled his good mate 6-2 6-2 6-2 in just under an hour and a half to set up a possible semi-final showdown against Roger Federer.
The American sixth seed took just 29 minutes to claim the opening set against unseeded Fish, who had taken care of fourth seed Ivan Ljubicic in the first round.
Fish, 25, could not get near Roddick though, and his Davis Cup team-mate breezed through the next two sets in similar fashion to make the semi-finals.
"I played pretty flawless," said Roddick.
"It's probably the best I've played against him. I think Mardy might have been a little bit nervous at the beginning as he made a few errors he wouldn't normally make.
"But that's about as well as I can play."
Fish had his serve broken seven times in all by former US Open champion Roddick, with the former world number one pounding down 10 aces along with an array of forceful ground strokes.
A first Grand Slam quarter-final ended in defeat for Fish, but he was quick to praise Roddick and believes he can go on to win the tournament.
"I started out pretty flat and he played really well," Fish said.
"When he serves that well you know he's going to hold most of his serves. I tried to change things up a little bit but he puts so much pressure on you and I didn't feel like anything was working.
"Andy can go all the way and win the tournament."
Roddick could now face Federer for a place in the final, should the world number one defeat Spaniard Tommy Robredo in his quarter-final.
Roddick did manage to get the better of Federer in a warm-up tournament for the Australian Open, and he feels in great nick heading into the semis.
"I felt great going into the game physically and I feel like I'm hitting the ball well," Roddick said.
"The gap on Roger has probably been closing a little bit and I'm playing about as well as I can.
"So if I play Roger then I will look forward to it."
SOURCE:
DILASO,AMSTERDAM