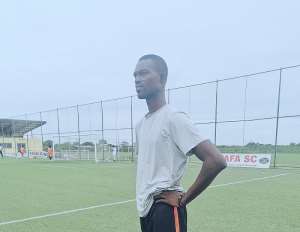 Sources closed to the playing body have confirmed that head coach Norbert Ayinbire Elegant have vacated from his position in the club. It is however unknown the reasons behind his resignation because the 30 years old Gaffer have always been in a smiling and cheerful mood and didn't show any sign of leaving his post and was dully involved in preparing the team in its final preps for this weekend league match.
All attempts to reach him or his Agency(EleSports) proof futile as they deemed it unfit to engage with the media at this time.
Statistics from the three Zones of the Division One League shows that; Coach Norbert's Koforidua Semper Fi FC are the only Newly promoted Club Occupying an enviable 2nd position with an unbeaten home record whiles being the most prolific club in the zone and the youngest club in the League.
Having recently defeated Liberty Professionals for the 2nd time this season, and with how calm and humble Coach Norbert holds himself in games and towards fans, its believed that the norm of unceasing interference and its related monetary owing's might have led to his vacation of post.