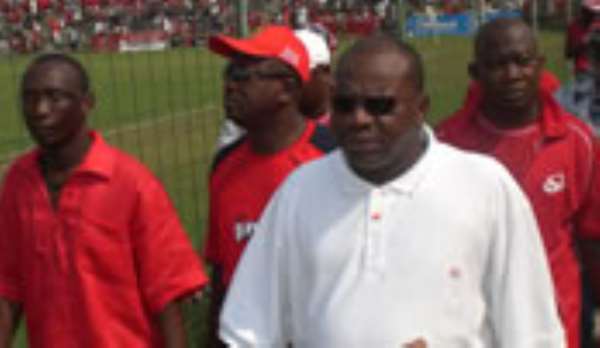 Heads are expected to roll among the playing ranks of Kumasi Asante Kotoko within the next 48 hours.
The club's Director of Communications, Kwame Baah Nuako on Tuesday morning told Adom FM in Tema that a lot of developments should be expected in the club by close of Wednesday.
He said looking at the commitment levels of some of the players in the cub currently, it appeared that fatigue had set in the play of some of the senior players and Management deemed it appropriate that no impediments should be placed in the way of players who required a move out of Kotoko.
He told the radio station that the management of the club was taking advantage of the reopened transfer window to beef up its quad by signing on a couple of players and would by the same means want to offer players in the club who he said were ageing, the opportunity to continue their careers elsewhere.
Kotoko have run as many as four consecutive league games without a win, losing three and drawing the other with two of the losses coming against Accra Hearts of Oak, their bitterest rivals.
According to Baah Nuakoh, the club's spell of poor runs lately has led to series of meetings and expressed the hope that all would be calm in the club soon.
He said management and the technical bench have had cause to review their respective roles and where changes are needed, they would soon be implemented.
He also called on the followers of the club to remain united and hope for better days ahead.