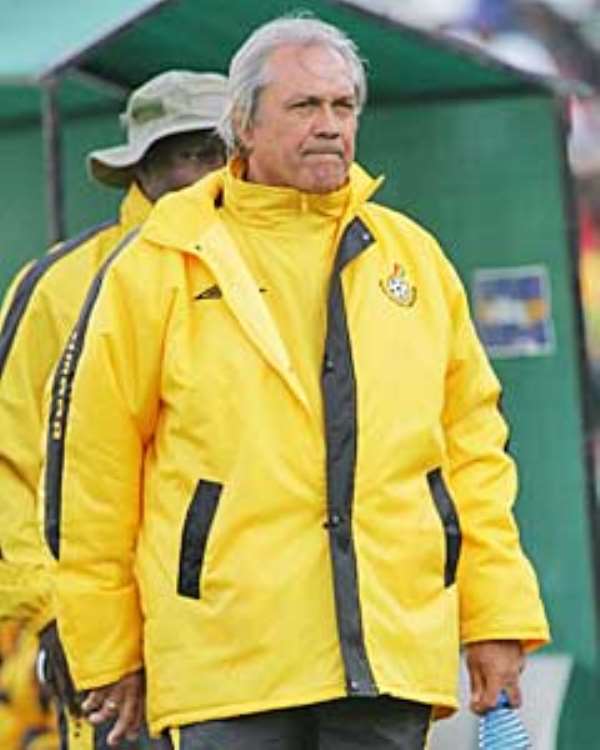 Even before the news is made official, myghanafootball.com can reveal exclusively that FIFA's next rankings of the world's top coaches has firmly placed Ratomir Dujkovic in the top 10 list of coaches in the world!
To be precise he is ranked number 9 by FIFA. Duya, as the Serbian was affectionately called made no secret of the fact that he wanted to stay on after the world cup finals in Germany but that was soon to prove impossible.
Media criticism and a campaign to get him replaced by a local coach at all costs proved the final straw and he left Ghana a sore man.
No matter what his critics had to say, ther is one fact that can not be denied. HE IS THE COACH WHO QUALIFIED GHANA TO THE WORLD CUP.
There is a sad perception about Ghanaians that many of us pray is not true.
Are Ghanaians 'spoilers' and 'destroyers' when it comes to giving credit to people who deserve it? Surely not!
Several ex-footballers, administrators and sports officials have
complained bitterly about the way 'we' have treated them. As a joournalist, i am not above blame BUT i know where to draw the line when it comes to criticism.
There are still those who do not want to give Duya his due but thankfully it appears FIFA may have recognised the man's immense efforts even if some claim he was just lucky.
Duya we say congratulations and we wish you the best of luck with your new job in China.
MORE FILA ON 'DUYA'
From low-profile coaching roles in Asia and South America, Ratomir Dujkovic has suddenly emerged as the miracle worker of African football.
The former Red Star Belgrade player worked in Burma and Venezuela before arriving in Africa and in four years he has built a reputation as a conjurer of success from almost hopeless situations.
Dujkovic was at the helm as Rwanda's footballers emerged from the horrors of genocide in their country to take their place among Africa's elite with their surprise qualification for the 2004 CAF Africa Cup of Nations finals.
And, at the tournament in Tunisia, the tiny east African country, among the smallest to ever qualify, came within minutes of making it past the first round and into the quarter-finals.
Dujkovic produced another miracle of sorts in 2005 as he took over as doyacoach of Ghana and led
them to the top of their 2006 FIFA World Cup™ qualifying group, thereby ending decades of failed attempts by their Black Stars to qualify for the world's biggest sporting show.
Dujkovic was born on 24 February 1946 in Borovo in the former Yugoslavia, in what is today a part of Croatia.
In his playing days he was a goalkeeper at Red Star Belgrade, helping them win four Yugoslavian championships and reach the European Champion Clubs' Cup semi-finals in 1970.
At international level, he appeared four times for his country and conceded just one goal.
Dujkovic moved to Spain in 1974 to play for Real Oviedo, and three years later returned home and joined Zemun.
After retiring in 1982, he remained at the club to begin his coaching career, first as an assistant and then as head coach himself before his old club Red Star drafted him into their technical team for two years from 1986-88.
He got his first taste of football outside Europe when he was offered a chance to work with the experienced Vujadin Boskov in Dubai but after a year he returned to Red Star and was one of their assistant coaches when they won the European Cup in May 1991.
The next year Dujkovic took up his first national coach's role with Venezuela.
He oversaw their 1994 FIFA World Cup qualifying campaign and while they lost seven of their eight matches, their 2-1 win over Ecuador in September 1993 was only the country's second ever in qualifying history.
In 1995, Dujkovic returned home and spent a year on the coaching staff of the national football federation, working with the junior teams, but the travel bug had now bitten and he went to Myanmar in 1996 and took their national team to the Tiger Cup in Singapore.
"It was a rich experience but unfortunately the sanctions on the country made it difficult for me to continue," said Dujkovic.
He subsequently returned to Venezuela as coach of Atletico Zulia, leading them into the Copa Libertadores as Venezuelan champions in 1998, before returning to Europe to assist with Yugoslavia's UEFA EURO 2000 campaign.
Then it was back to Venezuela for a third time and an eight-month spell with Estudiantes Merida in 2001.
Dujkovic's African adventure began soon after when the Rwandan Football Federation sought assistance from the Serbo-Montenegrins in its search for a coach and Dujkovic was recommended.
"I had to look it up on the map, I had no idea where it was," he said of Rwanda.
But he won seven of 18 matches in a busy first two years and set up Rwanda for their famous qualification for the 2004 Nations Cup - attained at the expense of Ghana in Kigali on 6 July 2003.
Dujkovic stayed on with Rwanda until mid-2004 when Ghana, on the receiving end of his coaching acumen the previous year, turned to him to replace the Portuguese Mariano Barretto.
Dujkovic signed a deal in December 2004 and within nine months the Black Stars had booked their place at the FIFA World Cup finals for the first time.
Coaching Career
International Side:
1992-93 Venezuela
1996-97 Myanmar
2003-04 Rwanda
Since 2004 Ghana
Clubs:
1982-86 Zemun (SCG) - Assistant, then head coach
1986-92 Red Star (SCG) - Assistant coach
1997-99 Universidad de Los Andes (VEN)