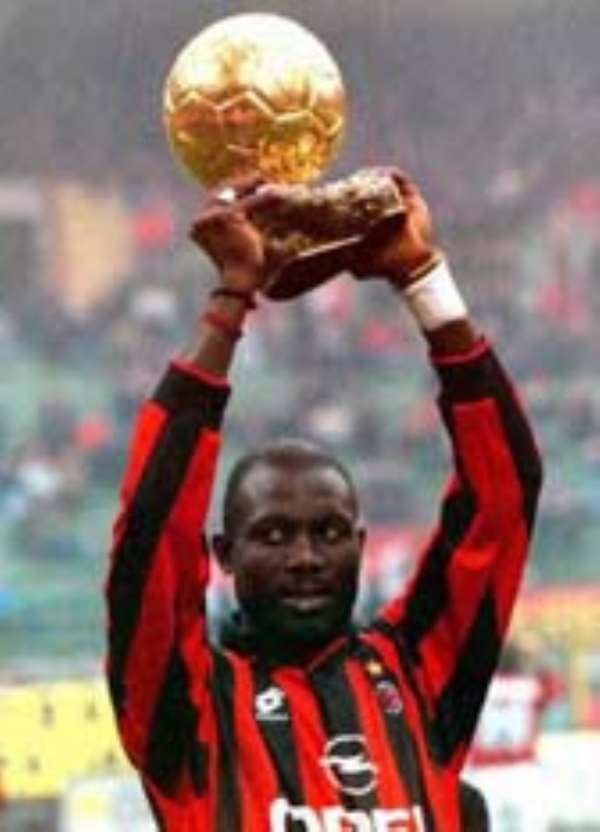 To some, he is Ambassador George Weah,others call him King George Weah and there are those who simply refer to him as brother George or Mister Weah.It titles were his thing, one of Africa's greatest footballers would have taken more than the above.
In an exclusive interview with myghanafootball.com, Liberia legend and immediate past presidential aspirant George Weah has described as 'wise' the choice of Claude Leroy as new coach of Ghana.
In the short telephone interview, Weah said Leroy has immense experience in African and European football which should give him the upperhand in dealing with today's complex game.
"I know Mr Leroy very well and when i was in France he was doing a lot for African players. He knows the way we play and the way we are in terms of culture so Ghana should not be a prblem for him"
Weah is of course refering to his own glorious stints in France where he made such an impact with AS Monaco, PSG and Marseille winning many titles.
The Liberian hero is the ONLY man to have won the African,European and World Footballer of the year titles in the SAME season and it is a feat that will be hard to repeat.
He spends a great deal of time in Ghana where he has adopted as his second home. He is expected t play a role in Ghana's Golden Jubilee celebrations in March.
George Weah is currently studying public administration and political science in Florida, USA and and has confirmed he will return to the political scene ''when the right time comes''.
He lives with his wife Clar and four children at home in Florida.
HOT FACTS ABOUT KING GEORGE
Born in Monrovia, Liberia, on October 1, 1966
Height: 1m 85cm
Weight: 83kg
Footballing career
Liberia: Young Survivors (1983-84), Bongrange Bongmine (1984-85), Mighty Barole (1985-86), Invincible Eleven (1986-87)
Cameroon: Tonnerre de Yaoundé (1987-88)
France: AS Monaco (1988-92), Paris Saint-Germain (1992-95)
Italy: AC Milan (1995-January 2000)
England: Chelsea (January-June 200), Manchester City (July-October 2000)
France: Olympique de Marseilles (October 2000- )
Honours
Cameroon league title (1988), French league title (1994), three French Cups (1991, 1993, 1995), French League Cup (1995), two Italian league titles (1996 and 1999), English FA Cup (2000), FIFA World Player of the Year Award (1995), two African Golden Balls (1989 and 1994)
Scored 150 goals in official European matches.
Liberia factfile:
Population: 3 million
Surface area: 111,400 sq. km
Life expectancy: 47 years
Adult illiteracy rate: 49%
GNP per capita: $150-200
Sources: World Bank and The Economist
Intelligence Unit
Key dates:
1847: Foundation of the Free and Independent Republic of Liberia.
1980: President William Tolbert assassinated in a military coup headed by Samuel Doe, who becomes the country's president and military chief.
1990: Rebel forces from Charles Taylor's National Patriotic Front of Liberia and the Independent Patriotic Front headed by Prince Johnson begin an armed revolt in the north of the country and advance towards the south, where they engage in battle in Monrovia against the forces of President Doe. Doe is killed in September.
In November, the Economic Community of West African States (ECOWAS) secures a ceasefire between the two rebel factions and the government, dispatches a peacekeeping force to the country and appoints a provisional government headed by Amos Sawyer. Charles Taylor declares himself president, as does Harry Moniba, second in command in Doe's defunct government.
1991: Taylor, Johnson and the commander in chief of Liberia's armed forces sign the terms of a second ceasefire. In October, Taylor agrees to a deal that would enable ECOWAS forces to disarm his troops and call a general election. In spite of this, new armed groups emerge and conflict continues.
1992: The UN Security Council decrees an arms embargo and pledges its support for ECOWAS.
July 1993: Peace talks begin in Geneva. Despite the signature of a fresh peace accord, the war continues.
August 1995: The eleventh peace accord is signed, to no avail.
1996: All factions agree to an unconditional ceasefire, which is followed by a peace treaty.
1997: The war finishes. A total of 150,000 people have been killed and a million displaced since the start of the conflict. Disarmament begins and refugees return. ECOWAS peacekeepers in the ECOMOG force remain in the country. Charles Taylor is elected president by a landslide.
2001: As yet unscheduled presidential elections due to take place.