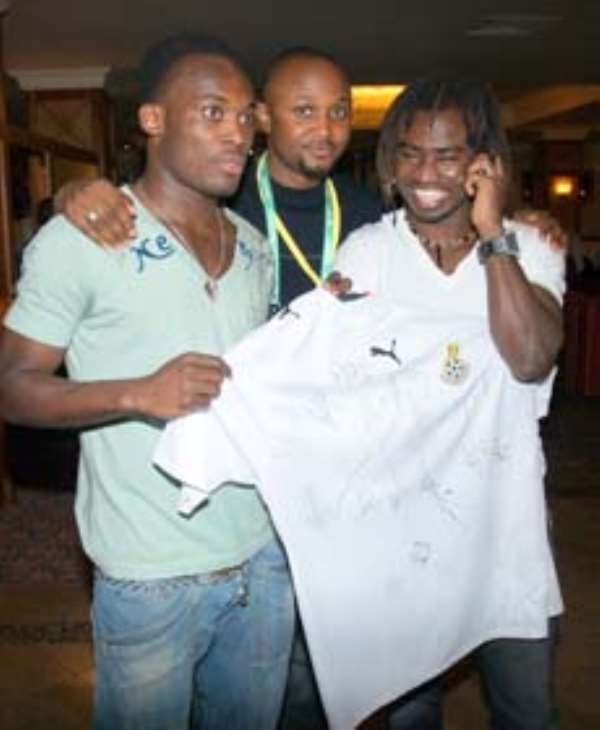 Ghana midfielder Michael Essien has thanked fans for voting him as the 2006 BBC African Footballer of Year.
More than 12,000 listeners to BBC World Service's Fast Track African sports programme voted in the hour-long poll on Friday.The 24-year-old received 66 per cent of the votes ahead of Egypt international Mohamed Aboutrika with his Chelsea team-mate Didier Drogba of the Ivory Coast coming third.
While happy with his prize, Essien found time to praise Drogba and Aboutrika.
"They are really good players and deserve to win the award but there can be only one winner and I am happy to be that winner," Essien told BBC Sport on Monday.
"The fans are the ones who watch and enjoy the matches, and I am happy that they chose me as their favourite.
"I am very grateful to them for the confidence they have shown in me by voting me for this award."
Essien, who has been in outstanding form for his club this season, helped the Black Stars reach the second round of the World Cup in Germany in June.
"I have been playing some good football since the beginning of the season and without the contribution of my team-mates at national team and club level, I couldn't have achieved this feat," he said.
"The award is a good confidence booster for me and I hope it can spur me on to win more laurels for my club and country."
Previous winners of the BBC African Footballer of Year award include Senegal's El-Hadji Diouf (2002) and Sammy Kuffour of Ghana (2001).
Nigeria's Jay Jay Okocha won the award twice in 2003 and 2004 with Egypt's Mohamed Barakat taking the 2005 award.