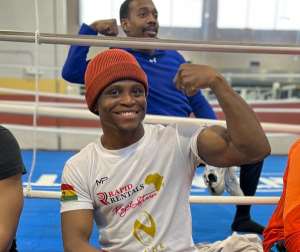 Ghana's Isaac Dogboe believes he has what it takes to beat Cuban Robeisy Ramirez because the latter has not fought anyone like him, and will prove that he is the best in the weight class.
Ramirez has a record of 11 wins with one defeat and 7 knockouts, while Dogboe aka 'The Royal Storm' has lost twice in his career to Mexican WBO Super Featherweight Champion, Emmanuel Naverrete and won 24 of his fights with 15 knockouts.
Isaac Dogboe also held the WBO Super Bantamweight before losing it to Naverrete.
He represented Ghana at the London 2012 Olympic Games.
The date for the WBO featherweight world title clash between Dogboe and Robeisy 'El Tren' Ramirez is April 1, 2023, at the Hard Rock Hotel & Casino, Tulsa Oklahoma and news from the USA states that the man from the Volta Region who wants to make history again has intensified his preparations.
Isaac Dogboe who is handled by trainer Barry Hunter and Patrice Harris at the Headbangers Gym in the Bald Eagle Recreation Center in Washington DC are really working hard for victory in his second title.
In a recent interview with Team Dogboe PRO, Nana Ama Akyere, she said they would organize a press conference to update Ghanaians on preparations.
However, news from the camp of the two-time Olympic gold medalist, southpaw Robeisy Ramirez states he is also ready for his first world title opportunity.
The 29-year-old joined forces with Cuban trainer Ismael Salas, who has helped channel his talents into a more professional style. Ramirez scored three straight knockout wins in 2022.
He stopped Irish veteran Eric Donovan and outsmart then-unbeaten contender Abraham Nova with a single straight left hand. Last October, he beat Jose Matias Romero via ninth-round TKO.
Ramirez who faces his biggest test had to say about his first world title shot:
"Main event. World championship on the line. This is what I have always wanted and have asked for since I became a professional boxer. I see this fight as the perfect stage from which to present my credentials to the world and make the case that I am the best fighter in the featherweight division."
"For me, life has always been about continuously being hungry. Talent alone is not enough at this level. True success means continuing to evolve, moving ahead, and conquering hurdles and failures to become great. I've experienced true hardship in life, so moving up to the mountains for a few weeks won't break me. It will only make me stronger, like all of the difficulties I endured on the road to where I am."
"I am proud of my career as an amateur and being a product of the 'Cuban School of Boxing.' But I have always added my own elements to the equation. I want to come forward and entertain, too. 'El Tren' is not just a nickname, it characterizes who I am as a fighter. Boxing is for the fans. And if they find my style agreeable, I will not shy away from leading the way for many others who want to break the mould of the highly skilled but boring Cuban boxer. On April 1, I will fulfil the goal of becoming world champion, but I am convinced that my greatest accomplishments in this sport are ahead of me."
But Isaac Dogboe 28, the brave warrior who also loves to be called 'Neho' is not afraid of words or anyone in the ring.
He believes it is another opportunity to give the people of Ghana a title once again and he will nail it.
Vice President of the Ghana Boxing Supporters Union (GHABSU) Mr Samuel Gyan feels the title is coming home, likewise President of the Ghana Boxing Authority (GBA), Mr Abraham Neequaye is certain that Dogboe will win for sure.
Mr Eugene Sackey, a boxing Promoter / Manager also thinks Dogboe has the upper hand looking at the records.
Ramirez-Dogboe headlines a stacked card streaming live and exclusively in the U.S. on ESPN+.