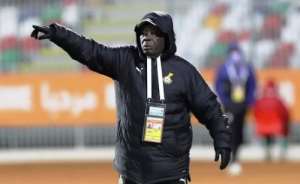 Black Galaxies coach, Annor Walker says his team did not deserve to lose against Niger.
Ghana suffered a 2-0 defeat against their West African neighbours in the quarterfinal game staged on Saturday.
An own goal from Konadu Yiadom in the 11th minute and a sublime finish by Soumana Hainokye Boubacar secured the win for Niger.
After the game, Walker asserted his sides didn't deserve to lose against Niger and has described their exit from the tournament as a big blow.
"When they (Niger) got an early goal, it gave them more determination and, on our side, it demoralized us…and when we conceded the second goal, we struggled to come back and eventually lost. I don't think we deserved to lose," Walker said
"Seriously I don't know what to say because I am short of words. It is a very big blow losing this match but everything that God does is good," he added
Niger sail through the semifinals with a 2-0 win and will face hosts Algeria on Tuesday.