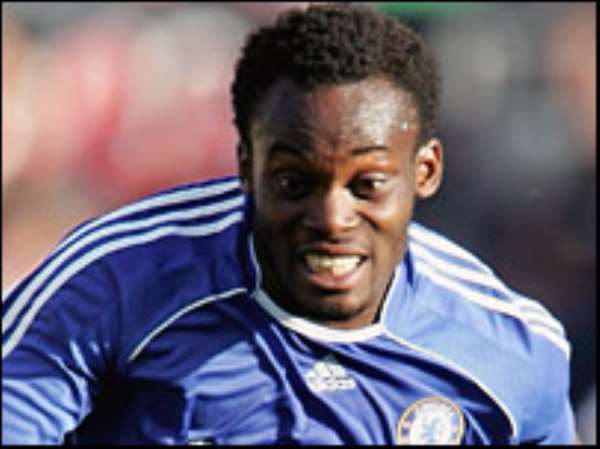 Yes i know what you might be thinking after reading the headline but it's true folks! Forget about the often over used cliche of "i saw it coming" In Essien's case,he had publicly spoken about "his goal" several days before the Arsenal encounter.
One of the first to reveal Essien's apparent vision was the CEO of DVison Network,Dennis Tawiah. Known as as staunch Arsenal fan, Tawiah had predicted a 2-0 victory for the North London Club over Chelsea but Essien retorted "you lie bad,there is no way we will lose at home and.....by all means i will score"
Infact Essien had been receiving text and voice messages from his Arsenal pals who were convinced of victory.
As you read this, the English media still have not stopped talking about Essien's "wonder" goal. So with the revelation that the player himself had vowed to score,there could be a very good reason why. Those who believe in dreams may identify with this.
But others say it is a common practise for footballers to predict they will score and they do. So what's the big deal?
Was it the best goal scored in the premiership this season or even one of the best ever? That's the debate raging in newspapers, programmes on radio, television and on the internet.
Arsenal had looked set to become the first side to beat the champions since they last achieved the feat in February 2004 when Matthieu Flamini put them ahead in the 78th minute.
But six minutes from the end it was 1-1 thanks to a 35-yard thunderbolt - a goal not only of massive importance, but also sublime in brilliance. (BBC)
Essien's goal is the latest addition to the ever expanding list of contenders for English football's Goal of the Season. My colleagues at the BBC have taken the debate a step further and made it a global football issue.
They are asking ".... is there such thing as a goal of the season? And what makes a great goal in the first place? Is it about individual brilliance or collective team effort?
Does a great goal have to be a 30-yard rocket or just a simple tap-in from close range? And is it true that a great goal needs a great opponent?
Some argue that greatness can be measured by the ability to repeat the performance. Do you agree? Over to you football experts.