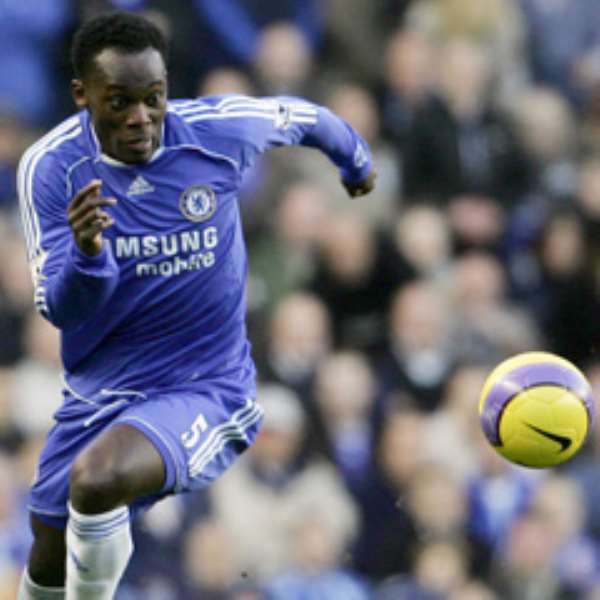 Michael Essien scored a beauty of a goal against Arsenal to secure a 1-1 draw at Stamford Bridge
Ahead of the crunching premiership game against Arsenal, his coach, Jose Mourinho described him as one of those players at Chelsea who are untouchable in his squad.
After regulation time, the commentator described him as the, "The Pride of Ghana", and rightly so.
Bison, as he is affectionately called by colleagues, Michael Essien for over five minutes in the game not seen the ball, and limited his presence on the pitch to positioning himself properly in case his colleagues cared enough to give him the ball. He was not ruffled by the initial anonymity he gained in the game.
But not to be outdone, he wormed himself into the game gradually, and started displaying his trademark tackles, crisp and occasionally long passes coupled with some goal scoring attempts.
French man, Arsene Wenger's charges had stormed Stamford Bridge with one mission to fulfill-beat Chelsea at their own backyard.
By the end of the first half however, they had been outplayed, having had just 35% of the exchanges with Chelsea having had 65%, but spectacularly failing to translate their dominance into goals.
Arsenal seemed to be coasting to victory courtesy a 78th minute strike by Mathieu Flamini after a series of passes deep in the area of Chelsea.
But when the ball finally fell before Flamini he wasted no time, delivering a right footer that tore through the Chelsea defence, with Hilario vainly barred from hitting the back of his net. It was Arsenal 1, Chelsea 0, with just 12 minutes from regulation time.
The goal incensed Chelsea, who attacked in droves, but Didier Drogba failed on some occasions to provide that clinical finishing Chelsea badly needed.
But in the 84th minute, Ashley Cole, who was involved in an acrimonious move to Stamford Bridge robbed a defender of the ball, sent it to the left, before it was returned almost in the middle of the field.
The Bull, Michael Essien had galloped like a horse into the middle, and the ball fell directly to him and without any hesitation delivered a right thunderbolt that sent the Chelsea fans into a wild frenzy, while Jens Lehmann was left wondering what might have been.
It was Chelsea 1- Arsenal 1, and the lionhearted Ghanaian midfielder, Essien ensured Chelsea escaped from the jaws of defeat.
It would have been double-whammy for him had his kick from two yards inside the Arsenal area not hit the post.
Terrific and Fantastic Essien, the Ghanaian midfield machine had on an afternoon of total dominance by Chelsea saved his club from sinking into the deep throes of defeat, which would have sparked a Manchester delight.